The Head of the UGCC met with the Ambassador of Federal Republic of Germany to Ukraine
Sunday, 02 April 2017, 14:53
On March, 31 the Head and Father of the UGCC His Beatitude Sviatoslav met with the German Ambassador to Ukraine Ernst Reichel in Kyiv. The meeting was initiated by the high official.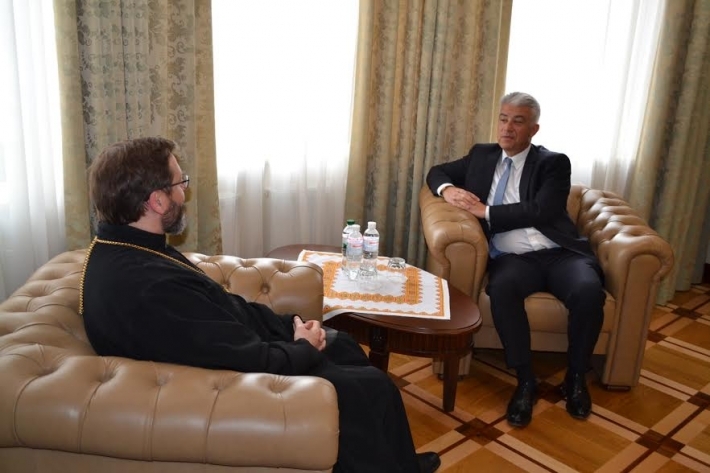 The Ambassador highly assessed the social ministry of the UGCC, in particular, to the needy and those who suffered from military actions. Not a long time ago Mr. Reichel visited Charity Fund "Caritas Donetsk" in Dnieper, which premises were bought with the help of Germany. "I am impressed with the activity and efforts done by the workers of this organization in terms of helping the people who have suffered from the war," he shared his impressions.
The participants of this meeting also discussed the inter-confessional situation in Ukraine. Thus, in particular, his Beatitude Sviatoslav said about the work of the AUCCRO (All-Ukrainian Council of Churches and Religious Organizations): " The Ukrainian society trusts our churches and religious organizations a lot. The members of the AUCCRO several years ago made a trip to Berlin where they could talk to both the representatives of power and church of Germany." The Ambassador became interested in the work of the AUCCRO, which, in his opinion, serves the common good despite the fact that its members are different: "For the sake of common good, you know how to be together."
The interlocutors also touched upon the topic of the role of the UGCC in the civil society. The Head of the Church said about the initiative of the National Forum for Transformation of Ukraine, which aims at creating a network society which would unite those who long for changes, reforms and are a catalyst of a dialogue between civil society and parliament. "Today there's a lack of communication between civil society and our authorities. Politicians and organs of power live their own lives… so thanks to this initiative we can promote this dialogue, without entering the political life. Its main goal – maturation of the national -social project of building the European state in Ukraine. Germany plays an important role in overcoming the conflict in the east of Ukraine, particularly in stopping the aggressor," said the Head of the UGCC to Mr. Reichel.
The UGCC Department of Information
PUBLICATIONS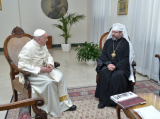 3 July at 10:00 AM, at Casa Santa Marta in the Vatican, Pope Francis met with His Beatitude Sviatoslav. The meeting was held at the request of the...
MEDIA