The Head of the UGCC met with the Mayor of Kyiv. They spoke about the scandalous construction called the Sunny Riviera near the Patriarchal Cathedral
Wednesday, 28 September 2016, 12:15
On September 26, 2016 His Beatitude Sviatoslav, the Head of the UGCC, met with the city mayor of Kyiv Vitaliy Klytschko. At the meeting they discussed the ways of solving the problems connected with the scandalous construction called the Sunny Riviera next to the UGCC Patriarchal Cathedral.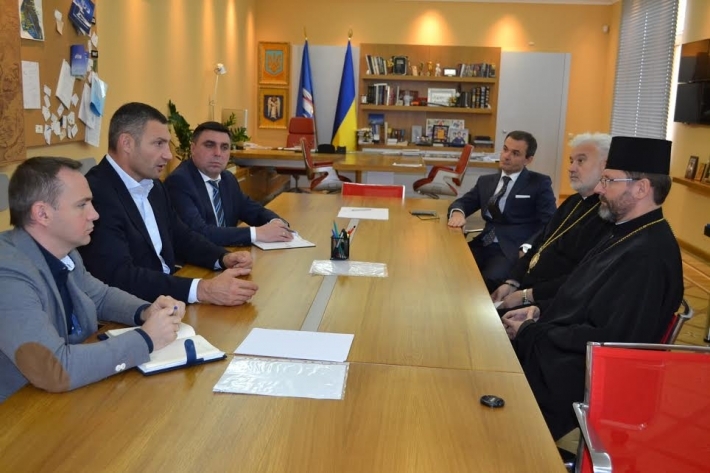 In the meeting participated: Spasybko Olexandr Valeriyovych (the Director of the Department of Construction and Housing of the Kyiv City State Administration), Svistunov Olexandr Viktorovych (the Acting Director of the Department of City Planning and Architecture, the First Deputy Director of the Department - the manager of building regulation of the city), the Bishop Josyph (Milyan), the auxiliary Bishop of Kyiv Archeparchy.
Mr. Vitaliy Klytschko presented a compromise, from the constructor's viewpoint, variant of finishing the construction of two buildings (situated within the limits of the coastal protection zone) with making a landscape park on the rest of the territory of this land plot. He also informed about the new challenges connected with holding the song festival Eurovision 2017 in May next year, particularly, the need to furnish the territory in very short terms before the festival. He also focused attention on the unacceptability of physical confrontation with regards to this construction.
His Beatitude Sviatoslav from his side stressed the necessity of an open dialogue involving all the interested parties regarding the use of the territory around the Patriarchal Cathedral, based on the requirements of the law and the principle of good neighborliness.
Also, the Head of the UGCC pointed out that the position of the Church in the situation concerning the illegal construction near the Patriarchal Cathedral of the Resurrection of Christ in Kyiv, remains unchanged and is made public on the official site http://ugcc.kiev.ua.
Besides, taking into account the international resonance, caused by this illegal construction, he called to the balanced approach while making decisions regarding this problem. His Beatitude Sviatoslav reassured that the Church which is an integral part of the local community, insists on legality and transparency in making this decision, rejects any corruption involved in the illegal construction and speaks for removing the reason for confrontation.
Reported by Oleh Yakymyak
MEDIA