The Head of the UGCC met with the Prime Minister of Ukraine
Saturday, 30 May 2015, 14:43
On Friday, 29 May, His Beatitude Sviatoslav, the Father and the Head of the UGCC met with Arseniy Yatsenyuk, Prime Minister of Ukraine. The meeting was also attended by Bishop Josyph (Milian), Bishop of the Kyiv Archeparchy, and people's deputy of Ukraine Viktor Yelenskyi.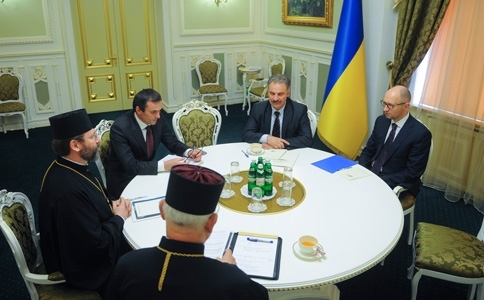 During the conversation the sides discussed the examples of cooperation of the UGCC and state structures of Ukraine. His Beatitude Sviatoslav spoke about the social service, which in the current special circumstances the Church is accomplishing. It was about the ministry for the forced settlers, the wounded, Ukrainian soldiers. His Beatitude Sviatoslav stressed the need for regulation of the legal framework that would allow better and more effective social ministry of the Church.
Particular attention was paid to the preparation for celebration of the 150th anniversary of Metropolitan Andrey Sheptytskyi. The Head of the UGCC thanked the Head of Government for the establishment of the organizing committee of Metropolitan Andrey's honour and for those initiatives that were decided to realize.
In memory of meeting His Beatitude Sviatoslav made a present for Arseniy Yatsenyuk - the book "In the Pilgrimage to the dignity and freedom ..." and the icon of St. Mykolay, the Wonderworker of Myra and Lycia.
UGCC Department of Information
MEDIA