The Head of the UGCC met with the Ukrainian youth in Rome
Wednesday, 27 May 2015, 13:40
As a part of His pastoral visit to Saint Sophia cathedral in Rome His Beatitude Sviatoslav, the Father and the Head of the UGCC met with the youth community of the cathedral.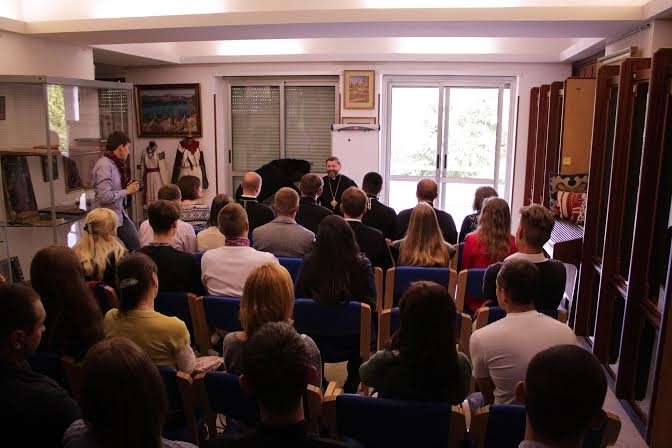 In His conversation with the young representatives of the Ukrainian diaspora in Rome, His Beatitude Sviatoslav said that young people in today's circumstances are "very active, they become the driving force in the church and public life, full of new ideas and like to break many stereotypes of social life". His Beatitude thanked especially the youth community for honouring the Heroes of Heavenly Hundred during the pilgrimage of bishops of the UGCC Synod to the tombs of the Apostles during the visit "Ad Limina". "It's especially impressed our bishops so on their behalf I express gratitude for this organization," - said the Preacher.
His Beatitude also encouraged young people of Rome to join the church-wide youth initiatives, including participation in World Youth Day, which in 2016 will be held in Poland and for the first time in the history, the Ukrainian language will be one of the official languages.
At the end of the meeting, members of the youth community made a present for His Beatitude Sviatoslav - a self made blue and yellow bracelet, which is a symbol of youth charitable community of Saint Sophia Cathedral, proceeds by self made bracelets the youth directs for the treatment and help for Ukrainian children who are undergoing their treatment in Italy.
Press service of the company "Saint Sofia"
PUBLICATIONS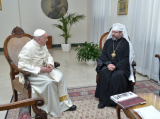 3 July at 10:00 AM, at Casa Santa Marta in the Vatican, Pope Francis met with His Beatitude Sviatoslav. The meeting was held at the request of the...
MEDIA