The Head of the UGCC: "Our greatest tyrant and enslaver is selfishness – the source of our grief"
Monday, 07 December 2015, 11:52
Only a nation who loves its neighbors can be a free nation, looking attentively and bravely into the eyes of history and with all abilities and strengths build up a future in God. It was said by His Beatitude Sviatoslav, the Father and Head of the UGCC in his homily to the faithful during the consecration of the Temple of Nativity of the Mother of God in Irpen (Kyiv region).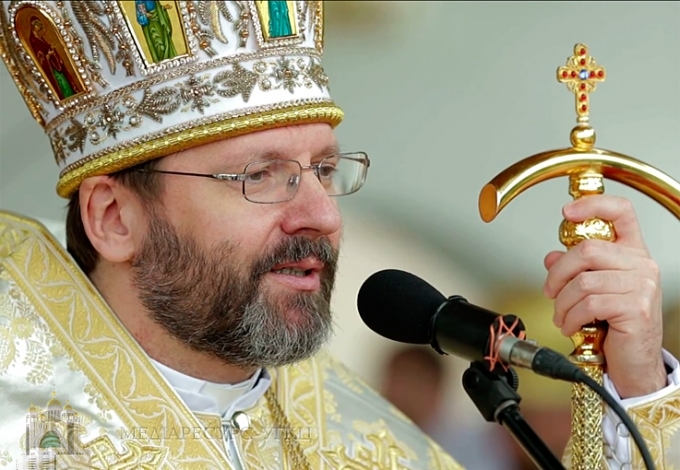 The preacher mentioned that in today's Gospel we hear a story of a salvation. We see Jesus Christ as an emancipator Who rescues a person from his/her slavery, erect his/her, give a dignity back, making valuable again…
"Very often a word "woman" in Scriptures means "God's nation". And in the image of this healing Jesus Christ rescues and heals not only one person but the whole nation. What was a problem of people present at the synagogue that day? The disease of that woman was laid in a personification of a so-called spirituality that identifies a person before God. It is an excellent example of a spiritual selfishness… She seemed to be crippled, bent over and completely incapable of standing erect, describes Luke. Thus, a person who looks only after him-/herself, caring for a personal welfare even in a spiritual life, is similar to such a crippled person, enslaved with a personal selfishness", - told His Beatitude Sviatoslav.
Up to his mind, a person who takes care only of him-/herself, in spiritual life praying about personal ego and personal problems, has to be hypocrite and Pharisee. Such person cannot stand erect before God, cannot obtain a liberty of full and live conversation with Lord and Creator. And God, in His turn, takes care of a person and teaches how to take care of a neighbor. That is a case of healing and emancipation that God gives a person.
The Head of the Church pointed out, even those who pray everyday can be spiritual egoists. "We want God accomplish our will. It is like we use Him as an instrument for fulfilling our personal, God's and people's needs. Then we become a center of the universe and want everybody go around us. However, such way of life is similar to that crippled woman, left of a freedom. For our greatest tyrant and enslaver is selfishness – the source of our grief: personal, family and even social. A society of egoists is sentenced for a collapse and destruction. But a community of people who can love God and neighbor, care for the neighbor more than for themselves, - and it is really a community of free people", - thinks His Beatitude Sviatoslav.
The UGCC Department of Information
MEDIA