The Head of the UGCC: «Our task – to pray for those who do not accept the Gospel, do not know God and truth about a human and a family»
Monday, 13 June 2016, 11:18
In the period from Resurrection to Ascension of our Lord Jesus Christ, the UGCC passes through the Mission Decade. During this time, the faithful carry out what Christ was praying for at The Holy Supper: in these ten days the Church prays for those people who have not experienced Christ's faith yet.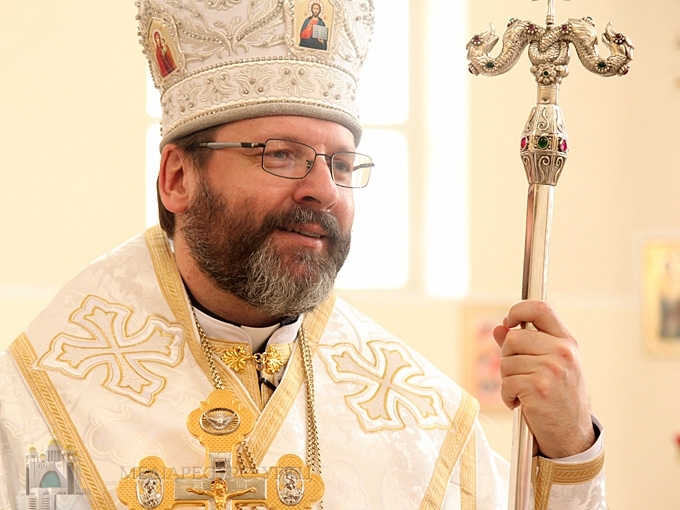 The Father and Head of the UGCC His Beatitude Sviatoslav emphasized this in his homily on June 12, the Sunday of the Fathers of the First Ecumenical Council at Nicea.
According to the preacher, despite the fact that we live in the world of modern technology, there are still a lot of people alongside who do not know God yet. That is why Christ in His Hierarchical prayer commits us to share our faith with such people. "During the Decade, we also pray for missionaries who preach God's Word to those who are not Christians yet and who might not share our Christian values", he added.
How should we share our faith? Jesus Christ in today's Gospel answers: "We have to share our faith by means of the method and content of the evangelical homily. However, sharing our faith must not be forceful since we cannot make anyone accept the Truth. Aggression and violence are incompatible with the Christian mission".
As His Beatitude Sviatoslav observed, first and foremost, we ourselves must live deeply by the Word of God and reveal it with our own lives (family, public and professional aspects).
"Today Christ calls us in the same way as he called His Apostles: to love those He is sending us to. Because of this the Christians of the early period of the life of Church respected the dignity of every person regardless of his religious beliefs, ways of living and culture", added the preacher. However, in his opinion, respect and tolerance for those who are different from us, does not exempt us from the duty to testify the Truth, even if people do not accept and reject it. "The big task of our Church is to pray for those who do not accept the God's Gospel and His Word of Truth, not knowing God and truth about a human and a family", underlined the Head of the Church.
At the end, His Beatitude Sviatoslav prayerfully added: "May the Lord unite in this prayer our Church and Ukraine so that we could fully pass the heritage of treasure of Divine life to those who need it."
The UGCC Department of Information
MEDIA