The Head of the UGCC participates in the regular meeting of the XIII Ordinary Council of the General Secretariat of the Synod of Bishops of the Catholic Church
Thursday, 29 November 2012, 17:25
On the 26th of November 2012, in the Vatican commenced the regular meeting of the XIII Ordinary Council of the General Secretariat of the Synod of Bishops of the Catholic Church, in which the Patriarch Sviatoslav (Shevchuk), the head of the UGCC, participated.
The Ordinary Council of the General Secretariat of the Synod of the Bishops of the Catholic Church consists of 15 bishops-delegates, who participated in the XIII session of the Synod of Bishops, which took place in the Vatican during the 7-28 October 2012 on the theme "The New Evangelization for the Transmission of the Christian Faith". Two-thirds of the members of the Council were elected to become the members of the Synod, and the rest was appointed by the Holy Father. What should also be mentioned is that His Beatitude Sviatoslav was appointed by Pope Benedict XVI as a representative of the Eastern Catholic Churches to work in this significant papal institution. In addition to those who were elected and appointed as members of the Council, to the service were also enlisted some of the leading Catholic theologians and rectors of Roman papal universities.
The meeting was opened by the Msgr. Nikola Eterović, the General Secretary of the Synod of Bishops, who summarized the main points of the meetings of the Synod. Both during the general discussion as well as during the work in groups among the issues that were analysed were theological, liturgical, catechetical and pastoral themes, which were put forward by the Fathers of the Synod, as well as their requests, which were directed to the Roman Pontiff. Another issue that was discussed and proposed was the plan of the Pontifical letter, which would take into account the main themes and suggestions that were expressed in the proposals of the Synod, in the Synod's Message to the Faithful as well as in discussions in small working groups. The goal of the Ordinary Council is to help the Holy Father in the elaboration of proposals of the Synod, in the summarizing of the discussions of the Synod in order to prepare the post-synod Pontifical Message for the transmission of the Christian faith through the Church in the new cultural and historical circumstances.
UGCC Department of Information
PUBLICATIONS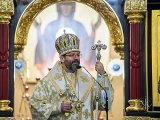 Head of the Ukrainian Greek Catholic Church brings multifaceted experience to project of evangelization.
MEDIA