The Head of the UGCC prays for the victims of Holodomor together with the Eastern Catholic bishops of Europe
Monday, 26 November 2012, 10:20
The primate of the Ukrainian Greek Catholic Church, Patriarch Sviatoslav (Shevchuk), prays for the victims of Holodomor together with the Catholic bishops of Eastern Rite in Zagreb, where for the time being (22-25 November), they are attending the annual meeting. This meeting is taking place in Croatia on the occasion of the 400th anniversary since the establishment of the Kryzhevach Eparchy.
Bishops from 14 European countries pray together for the healing of the wounds of the Ukrainian people, which resulted from the Genocide of 1932-1933, and also for the tragedies of a kind never to happen again.
The day before, Patriarch Sviatoslav, in an interview with the editorial "Nash Sobor", while answering the questions whether the wounds of the Ukrainian people managed to heal, he declared that when such an enormous human tragedy is kept in silence, there is no chance that the wounds will heal (listen to an excerpt).
According to his viewpoint, this tragedy has left Ukrainian people with such a deep wounds, that it will take a number of years to heal". "We should still come to the point, - says the Head of the Church, - when everyone, who denies the fact of the Genocide in Ukraine, starts to be considered both in our country as well as all around the world, as an accomplice or a person who justifies the crime - the crime to which no excuses can be found!".
The Primate maintains the opinion that the famine - it was the cheapest weapons of mass destruction, which did not take into consideration neither the age, not the gender or the class, "but was directed primarily against Ukrainians whose population dominated in those lands".
"Humanity today unequivocally condemned the crimes of the Nazi regime. Thus, the victims of Holocaust are honored to a certain extent by the very fact of recognition of the crime committed by their murderers. However, when we talk about the Genocide over Ukrainian people during the Great Famine of 1932-1933, this has not happened yet. It is even not the whole Ukrainian society that clearly perceives those events today. And unless the crime of the communist regime is unequivocally condemned by the world community, the victims of Holodomor will not be honored with dignity", - persuades the Head of the UGCC.
Patriarch Sviatoslav thanks God that days of remembrance of the victims of the Holodomor have become a tradition. "We already have Memorial to the victims of famines in Ukraine, to which the descendants of those families, who have suffered from Holodomor, may come and commemorate the ancestors who perished. However, I think that today we should take a step further – Ukrainians need not only the Museum of Holodomor, but also they require the research and development center in order to study Ukrainian Holodomor-Genocide", emphasized Patriarch Sviatoslav.
UGCC Department of Information
PUBLICATIONS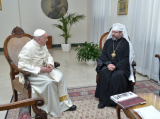 3 July at 10:00 AM, at Casa Santa Marta in the Vatican, Pope Francis met with His Beatitude Sviatoslav. The meeting was held at the request of the...
MEDIA