The Head of the UGCC to the brothers of Taizé: "On your returning home tell everyone that Ukrainians are on their way to the freedom and dignity"
Tuesday, 21 April 2015, 14:00
"This year, in Ukraine we are celebrating Easter in a special way because we experience this Easter joy among pain and war grief. We are confident, the resurrected Christ are with us. He is Our Easter Lamb of a New Testament".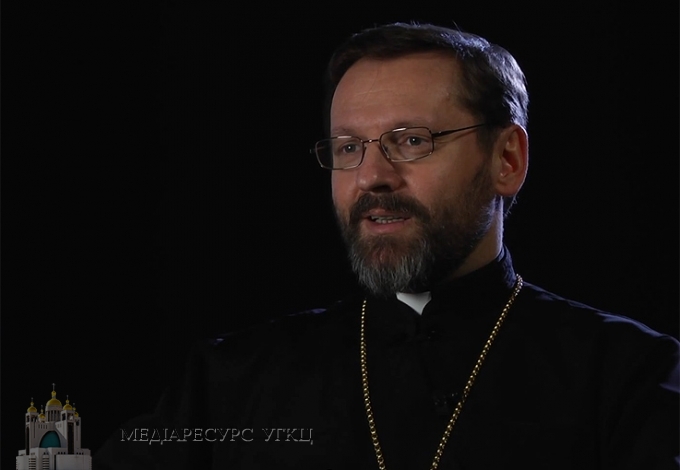 It was said by the Head and Father of the UGCC, His Beatitude Sviatoslav on 17th of April 2015 at Patriarchal Cathedral of the Resurrection of Christ of the UGCC in Kyiv during the ecumenical Taizé prayer for peace in Ukraine. The one who was participating in a Mass was bishop Bohdan (Dzyurakh), an administrator of the Patriarchal Curia of the UGCC and another guest as well, - brother Alois, who leads the world ecumenical community Taizé together with his co-brothers.
An Archbishop of the Church mentioned that today a lot of people are thinking about the ways how to stop an unjust aggressor. However, up to his mind, Christians have an incredible power – a prayer. "This evening we are praying together and feel among us a living God, - proceeded the preacher. – Please, when you come back to your homes, into countries of a West Europe, tell everyone that Ukrainians are on their way to the freedom and dignity. Tell everyone that today Ukraine is bleeding, fighting for its right to live. Moreover, tell that our state is staying in a perpetual prayer, that's why it is still alive".
At the end, he added "the long we pray, the long we live. This way we "we breathe with a spirit of a resurrected Christ".
UGCC Department of Information
PUBLICATIONS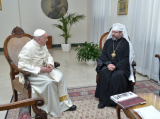 3 July at 10:00 AM, at Casa Santa Marta in the Vatican, Pope Francis met with His Beatitude Sviatoslav. The meeting was held at the request of the...
MEDIA