The Head of the UGCC to the youth in Zarvanytsia: "Our sacred obligation is to visit a wounded soldier at least once"
Sunday, 19 July 2015, 13:08
The Father and Head of the Ukrainian Greek-Catholic Church, His Beatitude Sviatoslav during his meeting with youth in one of the most popular site of pilgrimage Zarvanytsia, encouraged young people to remember our wounded soldiers and pray for them.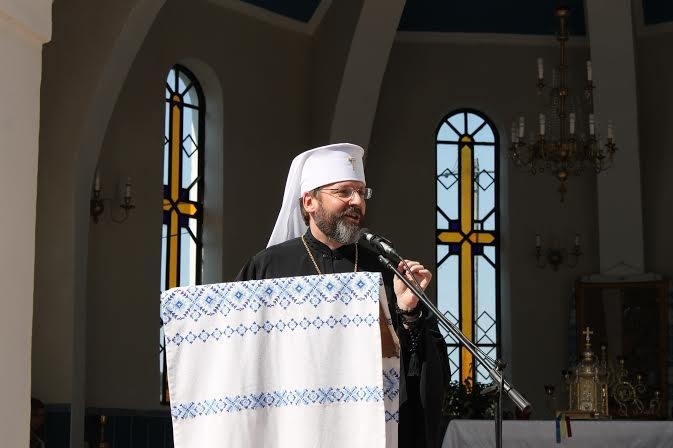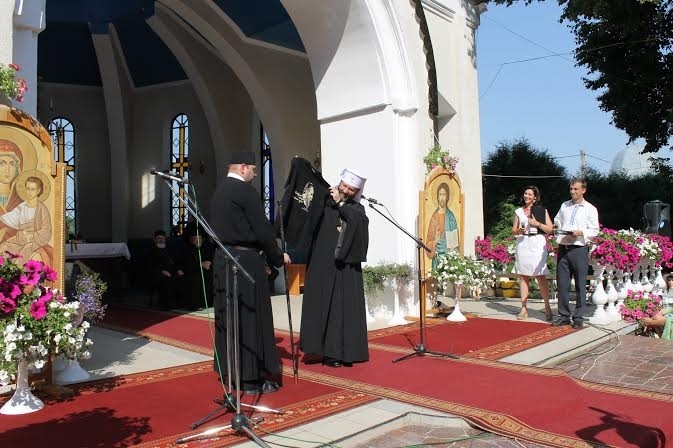 In his appealing to youth His Beatitude Sviatoslav especially recalled mothers of our soldiers, who day and night stand before God's face, praying for their children.
For this pilgrimage arrived mothers who had lost their sons in a war, being spread against our people. "Our sacred obligation is to visit a wounded soldier at least once, so that they could feel that they are not alone with their pain, their wounds, but we are all together", - signified The Head of the Church.
He encouraged everyone to send their prayers for our volunteers, for those who were not waiting to be said what they had to do. It was their will to follow their conscience.
The Head of the Church also mentioned that the main stage of beatification process of Metropolitan Andrey Sheptytsky that lasted more than 50 years was finished. According to His Beatitude's words, starting from now it is fair to call Metropolitan a righteous man in our Church. Onward, explained the Main Archbishop, to be proclaimed a holy one, the expert commission is examining miracles, performed with his mediation. And when the miraculous source of healing with his mediation will be acknowledged, we will receive one more saint in our Church.
During a pilgrimage he also asked youth to pray for glorifying God's servant Metropolitan Andrey.
The Head of the Church paid his attention to Pope's Francis proclaiming of heroic virtues of Metropolitan Andrey, setting him as an example of Christian heroism, being also a devoted minister, heroic leader of his flock.
Answering the questions of youth, in particular, how to distinguish a real heroism from a fake one, His Beatitude Sviatoslav said that a real heroism is accomplished with a real love to the Motherland. "If someone hates their enemies, he cannot be a real patriot. For today he hates his enemy and tomorrow he will hate his neighbour, Lord and himself, too. Metropolitan Andrey says, "hatred is not a Christian feeling. Hatred has never built anything. Hatred ruins only, firstly those, who bear it in oneself. The only one who can overcome it is a Christian, who is praying", - thinks the Head of the Church.
As it was said by His Beatitude Sviatoslav, today we must ask for interceding God's servant Metropolitan Andrey for us, and Our God Who is Love, together with Holy Virgin Mary, Mother of God of Zarvanytsia – to protect us from hatred, to teach us to love, even when it is hard.
On the meeting with youth were also present: bishop Vasyl (Semeniuk), Archbishop and Metropolitan of Ternopil-Zboriv, bishop Josaphat (Hovera), Archiepiscopal Exarch of Lutsk, bishop Vasyl (Tuchapets), Exarch of Kharkiv and bishop Theodor (Martyniuk), Auxiliary Bishop of Ternopil-Zboriv.
When His Beatitude Sviatoslav finished answering the young people's questions, on the roof of a parochial church where the miraculous icon of Zarvanytsia Mother God is remained, set a stork that must bring peace into Ukraine, as say the pilgrims.
At the end of the meeting youth presented His Beatitude Sviatoslav patriotic rosary.
Photos made by the press-service of the Archeparchy of Ternopil-Zboriv
The UGCC Department of Information
PUBLICATIONS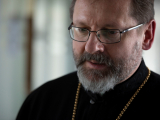 Christ is Risen! Dear Brothers and Sisters in Christ!
MEDIA