The Head of the UGCC together with minister Vadym Chernysh discussed the problems of internally displaced persons
Wednesday, 23 August 2017, 17:20
On August, 22, the Father and Head of the Ukrainian Greek Catholic Church His Beatitude Sviatoslav met with the minister for temporary occupied territories and internally displaced persons of Ukraine Vadym Chernysh and discussed the problems of internal resettlers and ways of their solutions. The meeting took place on the request of the minister.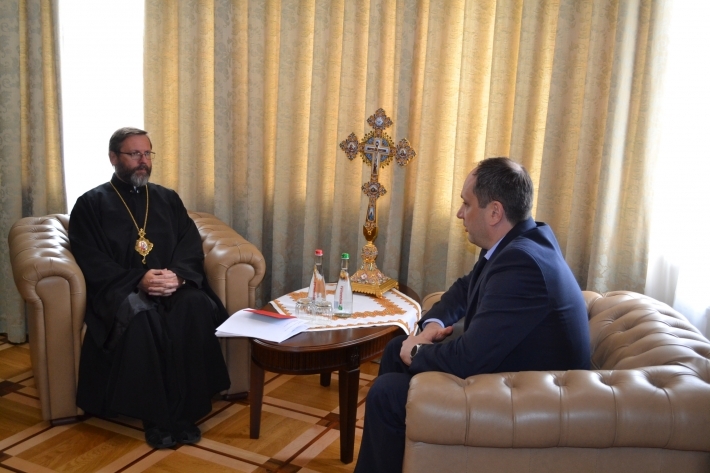 During the meeting the two sides discussed the problem of humanitarian aid on the occupied territories, the issues of social ministry and assistance to people who are now in the zone of military actions. And also everything that the Church does for pastoral care for the internally displaced persons of Ukraine.
The Head of the Church told the high official that it was the choice of the Church that the priests would remain with their people on the temporary occupied territories and also perform the necessary pastoral care, in particular, essential social services and other kinds of assistance which the Church can provide for those people.
His Beatitude Sviatoslav also told about the work of Caritas of Ukraine and the strategy of creating 10 pastoral missions around the line of demarcation in order to be closer to the people who live on the occupied territories and give them the necessary social aid.
Besides, the parties discussed the issue of helping and taking care of the internally displaced persons. The Primate of the Church told about different initiatives which exist in the Church today, in particular, about the vision of the Church of the issue of integration of internally displaced persons, especially in the new places of their living.
The parties discussed the need of sufficient quantity of housing for internally displaced persons, since almost half of them is looking for permanent place of living and does not see the possibility to return to the temporary occupied territory.
The minister noted the services fulfilled by the UGCC on the temporary occupied territories. Also, he emphasized tremendous work which the Church does for the internal resettlers.
Finally, the sides agreed on the coordination of efforts of both the Church and state agencies in providing assistance to the needy on the temporary occupied territories.
The UGCC Department for Information
PUBLICATIONS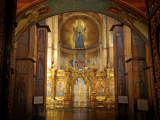 Dear brothers and sisters in Christ! Throughout our millennial history, our Church and our people have fully experienced in their bodies the...
MEDIA