The Head of the UGCC took part in a presentation of the unique Bishop's Breviary and Missal of Ivan Boyarsky
Friday, 29 May 2015, 13:37
On 28th of May, at Saint Sophia Cathedral in Kyiv, took place a presentation of the historical Bishop's breviary and missal of Ivan Boyarsky, the scribe dated from the XVII century, year 1632.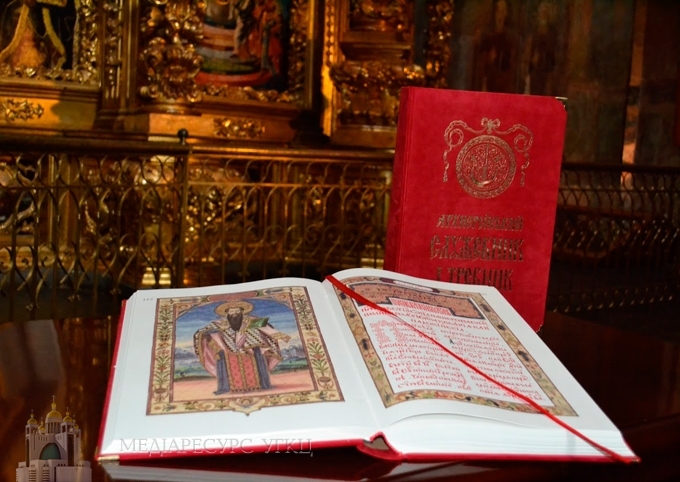 The edition is actual and has a practical meaning, for it tells us about peculiarities of the church service of old ages.
The scribe was compiled by Ivan Boyarsky, descending from the Ukrainian noble priest's family. A breviary is kept at the Institute of the manuscripts of Vernadsky National Library of Ukraine in Kyiv.
His Beatitude Sviatoslav paid attention to the place of conducting the presentation – Saint Sophia Cathedral and noted that once, at this church, liturgies were celebrated as it is prescribed in the rubrics of Bishop's breviary and missal of Ivan Boyarsky.
"Today we open for the researchers one more important constituent of history of Kyiv Church' liturgy", - mentioned the Head of the UGCC.
The Head of the Church thanked for keeping this book and its re-edition. "It is a great miracle that this book has been preserved in Ukraine, as many of analogous monuments of Kyiv Christianity, unfortunately are still inaccessible for us today. But today is a special gratitude to those who made this written breviary accessible for a modern scientist", pointed out His Beatitude Sviatoslav.
Appealing separately to a mover of this project – a president of Encyclopedia Foundation of Ukraine, Oleg Ivanusiv, the Head told him the next: "You are helping us to find our roots, you are helping us, the inheritors of this big heritage, to live and pray to God for our Ukrainian nation similarly, how our great precursors were accomplishing it".
Oleg Ivanusiv has worked upon the re-edition of a breviary for ten years. "Today, - said he, - this edition looks better than 400 years ago".
The breviary contains 420 pages of A3 format and published in edition of 300 copies. The majority of copies will be passed to the libraries, scientific and church edifices, where the religious studies are taught.
In a presentation also took part Bishop Yosyf Milyan, Auxilary Bishop of Kyiv Archeparchy, the first deputy Minister of Culture Igor Likhovy, the ambassador extraordinary and plenipotentiary of Canada in Ukraine Roman Vashchuk, Lviv Metropolitan of the Orthodox Church Makariy (Maletych), director-general of National Nature Reserve "Sophia Kyivska", Nelya Kukovalska and other famous religious and political figures.
At the end of an event sounded songs, performed by a famous band "Pikkardiyska Terciya" and a prayer "God Great One" performed by choir "Toll".
UGCC Department of Information
by the materials of Kyiv Archeparchy press-service
PUBLICATIONS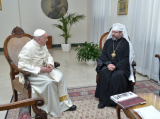 3 July at 10:00 AM, at Casa Santa Marta in the Vatican, Pope Francis met with His Beatitude Sviatoslav. The meeting was held at the request of the...
MEDIA