The Head of the UGCC: "Whose Are You" – this question could be put to all state employees"
Friday, 20 May 2016, 22:36
"Whose are you?" This question could be put to all state employees who receive money for living not from a state but from their "mentors". This corruption destroys everybody. Even after the Revolution of Dignity, when government was concentrated in other hands, new persons of high ranks agreed on a so-called quota regarding every party to be guaranteed a certain amount of own persons in the Government. We, all religious leaders, spoke with our explicit statement against this fraudulent practice. The Father and Head of the Ukrainian Greek-Catholic Church said in his interview to the Italian edition "SettimanaNews".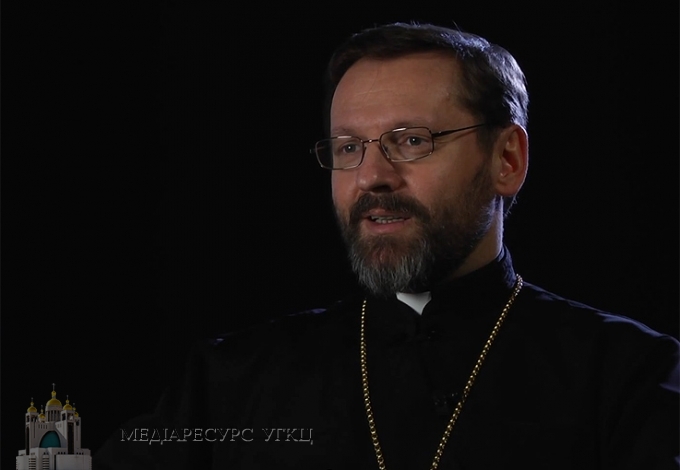 Describing the present political situation in Ukraine, the Head mentioned that Ukraine is a state with the soviet past, having lived the last twenty-five years by its double identity. On the one hand the state society has being developed and reached a significant development with attaining their independence: first of all, it concerns a middle class that is enabled to strengthen relations with European and technological reality. On the other hand, state apparatus as a survival from soviet times continued to exist. After the collapse of the Soviet Union Communist party lost its power and former communist leaders turned into oligarchs, possessing an absolute authority. Communist leaders had an admission to the state inheritance so during the time of privatization they managed to possess state property. Ordinary people who did not have the admission to the state property and, above all, did not know how could they protect their own rights for properties that considered to be the common wealth, were put aside the history.
"Those who have money, - proceeded His Beatitude Sviatoslav, - create their own policy: stand up for their interests, establish political parties… Every second political creature promotes interests of some oligarch. For the last ten years this dead circle that destroys the state has generated the whirl of corruption. I am reminding myself one soviet comedy ("Ivan Vasilievich: Back to the Future") where the main hero invented time machine thanks to what Ivan the Terrible was sent to the soviet times. Wandering among people, tsar asked everybody existential question: "whose are you?" This question can be put to all state employees who receive money for living not from a state but from their "mentors".
The Head of the Church considers citizenship in Ukraine to be living one generation of post-soviet dinosaurs, what, unfortunately, still continue to realize their policy. "We are in the same situation that happened to Poland after the fall of the Berlin Wall. Let us imagine an old car that cannot speed up with a driver in it. The car must be reversed but the one who drives this car will not do this as they got used to it", said His Beatitude Sviatoslav.
He pointed out that civil society in Poland managed to break the old system thanks to "Solidarity" movement what was supported and governed in some way by John Paul II. "President-communist was at the wheel, however without an old car and, thus, he willingly signed all the documents about an integration with European community. Yet a government reform and state apparatus did not start and was not governed by bureaucrats or politicians but a civil society. In Ukraine, two years after Euromaidan – we are going through the same situation", thinks His Beatitude Sviatoslav.
The UGCC Department of Information
PUBLICATIONS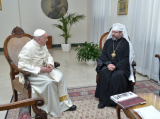 3 July at 10:00 AM, at Casa Santa Marta in the Vatican, Pope Francis met with His Beatitude Sviatoslav. The meeting was held at the request of the...
MEDIA