The Head of the UGCC: "Youth found in the Ukrainian Church their mother, teacher and protector"
Tuesday, 02 December 2014, 15:02
Escaping from the murderous hand, our young people, girls and boys, found in Ukrainian church their mother, teacher and protector. That was said by the Father and Head of the Ukrainian Greek Catholic Church His Beatitude Sviatoslav during the interfaith Prayer service at St. Michael's Square on 30 November, the first anniversary of beating students by the criminal regime at Independence Square.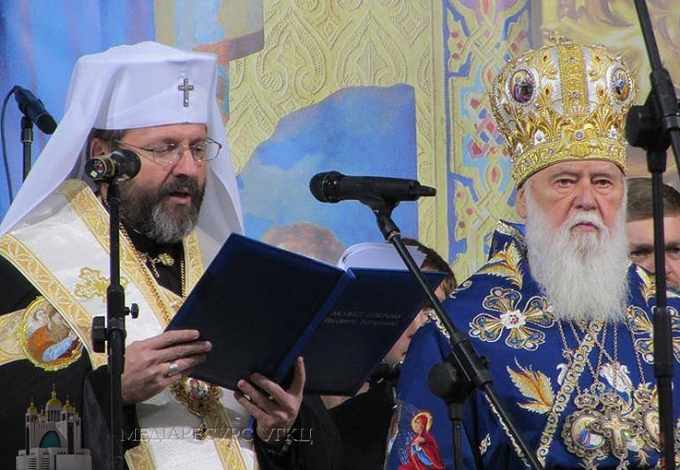 "This holy abode (St. Michael's Cathedral. - Ed.), which once, in times of enemy invasions, became the refuge of the persecuted and oppressed, and on this day woke up Ukraine, awakened conscience, awakened in us the desire of goodness, justice and freedom" - marked His Beatitude Sviatoslav.
The Head of the UGCC remembered as "our churches, our monasteries turned into hospitals, centers of love and solidarity, love to neighbor". "Today we remember that. We pray for our nation and ask the Lord God forces to withstand in the fight, which began a year ago",- said the Archbishop.
He thanked all those who now pray and do good for the benefit of Ukraine.
Prince Yaroslav the Wise gave under the Protection of the Virgin Mary the people of Kievan Rus. The Head of the Church recalled that with the initiative of the UGCC faithful this year, on the eve of the feast of the Annunciation, we renewed the act of dedication of Ukrainian people under the Protection of the Blessed Virgin Mary. "We are confident that the Virgin Mary takes us in prayer. We know the ancient tradition of Ukrainian Kyiv that till the time Kyiv Oranta is among us - the Indestructible wall with hands lifted to God, you and I are invincible", - said the Archbishop.
He urged anyone and everyone to pray. "Do not lose your hearts. Let's continue in fasting and prayer for Ukraine. And the Blessed Virgin Mary, our Heavenly Mother will protect us, cover with Her omophorion our soldiers, all those forced to leave their homes, protect the wounded, prisoners, those who suffer from abuse. Let Her be our mother - patroness and prayer for Ukrainian people", - said the Head of the Church.
UGCC Department of Information
PUBLICATIONS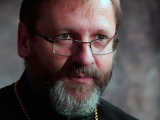 A presentation of the book "Dialogue Heals Wounds" of the Father and Head of the UGCC, His Beatitude Svyatoslav, was recently held. The book is...
MEDIA