The Holy Trinity Ukrainian Catholic Church held a week ling Bible Camp for the Ukrainian Catholic children and youth
Friday, 03 July 2015, 09:42
Father Jason Charron and parishioners of the Holy Trinity Ukrainian Catholic Church held a week ling Bible Camp for the Ukrainian Catholic children and youth.
On Tuesday, June 30, 2015 His Excellency Most Reverend Bohdan J. Danylo, bishop of St. Josaphat Eparchy visited children and youth in Carnegie, PA. Father Jason Charron, pastor of the Holy Trinity Ukrainian Catholic Church in Carnegie, PA started this summer the Bible Camp for children and youth of the Pittsburgh Metropolitan Area. Monday, June 29 through Friday, July 3, 2015 over 30 children and young adults gather daily for prayer and study of the Holy Scripture.
http://stjosaphateparchy.com/
PUBLICATIONS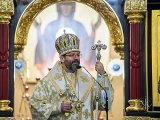 Head of the Ukrainian Greek Catholic Church brings multifaceted experience to project of evangelization.
MEDIA