The Lenten English-language virtual telethon brought together the youth of Ukraine and Canada
Monday, 22 March 2021, 11:21
On Saturday, March 20, the Lenten English-language telethon "Christ is our Pascha" was held for instructors of the ESL Youth Ministry, cadets of Odesa Naval Lyceum, Sambir Courses of Christian Animators (CCA), the youth of the Eparchy of Saskatoon (Canada), with the participation of His Excellency Bryan Bayda, Eparch of Saskatoon and Apostolic Administrator of the Eparchy of Toronto. Approximately 30 young people from different parts of Ukraine and Saskatchewan took part in the virtual event. This is the second joint project of the St. Sophia Religious Association of Ukrainian Catholics, Inc. (SSRA), the Youth Committee of the Eparchy of Saskatoon, and the CCA of Sambir. The first joint telethon took place on December 20, 2020.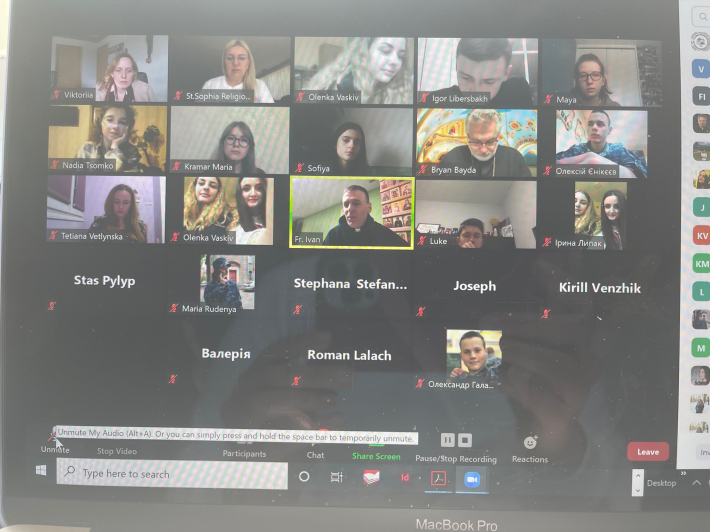 The aim of the telethon was to delve into the meaning of Great Fast (Lent), focusing on the image of the suffering Christ. Language practice was an additional attribute of the gathering as the event was thoroughly in English. Participants had a unique opportunity to listen to the retreat conducted by Bishop Bryan Bayda. He in particular focused on the Apostolic Letter Salvifici Doloris by St. John Paul II. Bishop Bryan spoke about supernatural and human meaning of suffering, which lead us to discover humanity, dignity and our mission. Only in Christ can our suffering become meaningful as He alone gives us hope. The musical accent of the retreat was the song I stay performed by Bishop Bryan.
The culmination of the meeting was the joint Way of the Cross prepared by the organizers of the event. Participants meditated on the Savior's pain and suffering in the context of contemporary world.
Bishop Bryan and Fr. Ivan Nahachewsky answered the young people's questions about the importance of pain as a healing part of human existence, experience of serving on the battlefield, and the meaning of life and death.
At the end of the event, the bishop gave a blessing to all participants.
"It was a life-changing experience. To walk the Way of the Cross together with the youth not only of different cities and countries, but also of continents, meant to testify to the suffering and love of the Son of God", stated the participants of the event. "That is exactly what Patriarch Slipyj taught in his Spiritual Testament: "Be witnesses of Christ in Ukraine and in the lands of your free settlements, in prisons and camps, to the ends of the earth and to the ends of your earthly life!" noted Iryna Ivankovych, President of SSRA
St. Sophia Press Bureau
PUBLICATIONS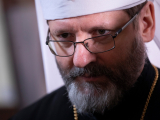 Christ is Risen! Dear Brothers and Sisters in Christ!
MEDIA