The meeting of His Beatitude Lubomyr (Husar) with the faithful people of Evpatoria
Wednesday, 30 January 2013, 21:29
On the 27th of January 2013, His Beatitude Lubomyr (Husar), the Archbishop Emeritus of the UGCC, met with the college children, parishioners and with the military of Evpatoria, which is in Crimea. On the invitation of the Greek-Catholic priest Fr. Bohdan Kostetskyi, the meeting with His Beatitude Lubomyr took place in the local leisure activities center.
The meeting was attended not only by the Greek Catholics, but also by the representatives of other denominations. The Archbishop Lubomyr focused his attention on the meaning of Christian life and on the importance of social service to the neighbor; in particular, he emphasized the social problems of modern life.
There was a number of those, who were wishing to listen to the advice and opinions of His Beatitude. The assembly hall of the leisure activities center was filled with students, lecturers, members of the "Prosvita", the Union of Ukrainian woman and with the military.
The meeting was held in the form of questions and answers.
Bishop was asked a number of questions. Among them, it was interesting to listen to issues of social and public, religious and spiritual nature.
Ihor Kotar, the head of "Prosvita" Organization
PUBLICATIONS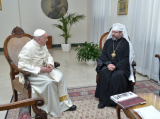 3 July at 10:00 AM, at Casa Santa Marta in the Vatican, Pope Francis met with His Beatitude Sviatoslav. The meeting was held at the request of the...
MEDIA