The monument to Metropolitan Andrey will be brought to Ivano-Frankivsk soon
Thursday, 13 August 2015, 18:18
The sculpture of Metropolitan Andrey Sheptytskyi, the main element of the future monument to the glorious figure of the Ukrainian Greek Catholic Church, will be brought to Ivano-Frankivsk on 20 August.
This was told by Deputy Director of the Department of Architecture and Urban Development Svitlana Losyuk during weekly operational meeting with the mayor.
As you know, the monument to Metropolitan should be opened during the Patriarchal Council of the UGCC, which will be held in the city and will start on August 25 this year.
The bottom layer of asphalt on Garbarska Street will be paved till 20th. Currently the sidewalks are laid by the cobblestone.
PUBLICATIONS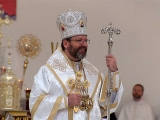 Can Easter be considered as a peculiar Christian holiday of victory and freedom of a human's will? Are we able through terrestrial examples...
MEDIA