"The nation celebrates the 1025th anniversary of the Baptism of Ukraine-Rus, but Christian Ethics is being removed from state education programs," His Beatitude Sviatoslav
Monday, 06 August 2013, 23:02
The Head of the Ukrainian Greek-Catholic Church, His Beatitude Sviatoslav (Shevchuk), at a press conference in Krylos (Ivano-Frankivsk region) expressed his sadness that Christian Ethics is being removed from state education programs.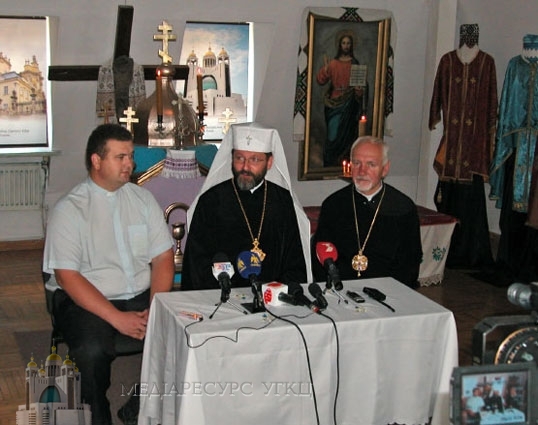 "This year when the nation is celebrating the 1025th anniversary of the Baptism of Ukraine-Rus, Christian Ethics is being removed from state education programs. It is becoming second or third in rank as an elective. Whenever any sort of spiritual subject is being considered, then there is always an attempt to change it into a cultural discipline," noted the Church Primate.
He agrees that "state education does not fully understand that a person is not only the combination of body and mind, but also of a spiritual life. "More than once, I have appealed to state educational entities and reminded them that the Church in Ukraine was always a Mother and a Teacher," states the Head and Father of UGCC.
His Beatitude Sviatoslav expressed the readiness of the Ukrainian Greek-Catholic church "to take on the role of teaching, to be the teacher of its children." "If our youth supports me in this, then we can change a lot in our country. Today we want to develop our Catholic system of education, from the level of kindergarten to the level of university. We already have Catholic kindergartens, schools and a university, but we need to mobilize the society more, to mobilize parents who by taking care about an appropriate Christian upbringing of their children, could change the soviet stereotypes which, unfortunately, today still exist in the Ukrainian system of education," emphasized the Church Primate.
Source: Radio Voskresinnia
UGCC Department of Information
PUBLICATIONS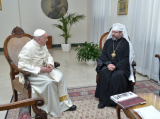 3 July at 10:00 AM, at Casa Santa Marta in the Vatican, Pope Francis met with His Beatitude Sviatoslav. The meeting was held at the request of the...
MEDIA