The new church was consecrated in Kyiv region
Wednesday, 24 October 2012, 11:57
On the 21st of October 2012, in the city of Boryspil, Kyiv region, the newly built Sts. Volodymyr and Olha Ukrainian Catholic Church was consecrated. With the blessing of His Beatitude Sviatoslav (Shevchuk), who is the Head of the Ukrainian Greek Catholic Church, the responsibility for consecrating the Church was laid on Yosyph (Milian), who is the Bishop-assistant in the Kyiv Archeparchy.
After the consecration of the church, the first Divine Liturgy was held; it was headed by Bishop Yosyph in concelebration with the clergy of the archdiocese as well as with the participation of laity people and guests that were invited, especially the representatives of city and regional authorities.
The holiday was decorated with the singing of the choir of seminarians of the UGCC Evangel Theological Seminary of Kyiv.
According to Fr. Ihor Shaban, the administrator of the Sts. Volodymyr and Olha Parish in Borispol, the Church will become another decoration of the city. "I want to express my sincere gratitude to the authority of the city, to the laity as well as to all the benefactors who contributed to the construction of this house of God. We hope that it will become a center of spiritual renewal for those faithful to the UGCC and well as to those who are still in search of God. Special gratitude to Bishop Yosyph (Milian) and to the clergy of the UGCC for the support provided to the community of Saints Volodymyr and Olha in Boryspil "- noted Fr. Ihor.
Photo report
http://www.ecumenism.com.ua/news/837/
PUBLICATIONS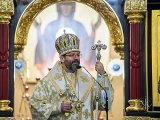 Head of the Ukrainian Greek Catholic Church brings multifaceted experience to project of evangelization.
MEDIA