"The one who lives in truth will be the victor," His Beatitude Sviatoslav to youth in Zarvanytsia
Saturday, 19 July 2014, 14:23
How to fight with evil, to raise oneself from one's knees, to overcome corruption and mobilize oneself during war, the Head of the Church, His Beatitude Sviatoslav, taught young participants of this year's All-Ukrainian and Youth Pilgrimage to Zarvanytsia. The meeting with youth took place on July 19th on the square near the parish church.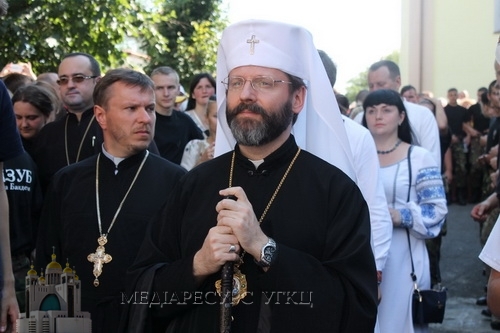 His Beatitude Sviatoslav noted that today in our country there is a strongly felt mobilization of all powers, all resources, but the pilgrimage is the mobilization of the spirit of our Church and our people. "A person is a being who unites in oneself the seen and the unseen worlds. The fight with evil, the fight for a better future, has two forms. On the one hand, it is seen, where it even becomes necessary to give up one's life for one's country, but it is also unseen – a spiritual struggle. Never in its history were the Ukrainian people ever able to overcome the enemy, unless they first overcame him spiritually. And therefore, during this pilgrimage, we want to gather together into one all the spiritual forces of our people and beseech the Lord God, through the intercession of the Immaculate Virgin Mary, for blessings, help, strength, peace and tranquility for our land. It is the prayer for peace itself -- that is the goal of this pilgrimage," explained the Head of the Church.
UGCC Prelate recognized the bravery of the Ukrainian youth and thanked them for the struggle which they are carrying out because "today all of us need great bravery in order to get up from our knees and to build, to struggle for a better future for our nation." UGCC Prelate emphasized the spiritual struggle specifically saying: "Look over the last half a year's struggle which is being fought by the Ukrainian people – it is the struggle between good and evil, the struggle of truth over falsehood, the struggle of dignity over the baseness of slavery, the struggle in which good always becomes victorious."
His Beatitude Sviatoslav stressed that the front of this spiritual battle pierces the heart of each one of us. "We are called upon to be victorious in this battle through the power and graces of the Holy Spirit, which was solicited for us and will be given to us by the Immaculate Virgin Mary. Every day we, the young people, need to use everything in order to overcome the evil in our own heart. All of us are susceptible to various attacks of evil. Many talk about the informational war which is waged against Ukraine today. Thus, let us speak the truth – and we will overcome the falsehood," urged the preacher.
The Patriarch named corruption as a form of evil which corrodes and paralyzes our people and does not permit them to mobilize totally. "One of the demands of the young people who stood on the Maidans of Ukraine was the fight against corruption. However, corruption is not only the bribability of these or those officials or people in authority. Corruption is a moral defect in society, in each one of us."

UGCC Head presented an example from a conversation with a student, a participant of Maidan, who conscientiously was preparing for the session and wanted to honestly pass the exams. This girl noticed that there was corruption among the students; they were purchasing grades. His Beatitude Sviatoslav, in quoting her words, emphasized that not all students want to exert the effort needed in order to pass exams in given subjects.
"And the question which emerged: 'For what did the Heavenly Hundred die, if the students themselves, the young people in their personal choices begin to betray those ideals which they pronounced?' Be assured, that if there are among us those who are ready to give a bribe, always someone will be found who will take it. If a student does not struggle to gain knowledge and does not want to work on gaining a quality education, then he will find a way in which to buy it. Therefore God in the Gospel says: 'Do not search for an easy path, because wide gates and wide paths lead to hell.' 'A narrow path and a narrow door lead to the Heavenly Kingdom and not all will find them,'" stated His Beatitude Sviatoslav.
He explained that sin always presents us with the path of least resistance, the least effort, proposing easy ways in which to gain an upper hand or quick satisfaction without any personal effort, and this is the path that leads to doom. The preacher emphasized that one cannot make compromises with evil; we should overcome evil in our heart and then we will overcome everywhere where God sends us: whether it is to the front or any other forms of battles.
"The one who lives in truth will always be the winner. And this should be inscribed in our memory. Today, Christ's Church, even during this pilgrimage, speaks to us with hopeful words. Why? Because God leads all of us on the path of truth and the one who lives in truth is strong. And truth always wins. Therefore, be certain, that as long as we do not succumb to moral destruction, moral corruption, we will remain an unconquered Christian and God's people," explained UGCC Prelate.
"And therefore, do not be afraid to say 'NO!' to all invitations to avoid responsibility or even sacrifice for which you should be ready every day. Therefore, today – as never before – youth is the healthy nucleus of our society from which Ukraine resurrects. I thank you, young women and men, for everything that you have already done for your people and your country. I am convinced that the renewal of our people, our nation, our government – is in your hands in the future – as long as you accomplish this act with clean hands and with a clean Christian conscience," stated the Head of the Church.
His Beatitude Sviatoslav also talked about the figure of the Blessed Priest Martyr Vasyl Velychkovskyj who tomorrow, on July 20th, will be proclaimed the patron of prison chaplains. "He was sentenced to death and spent time in a cell from which they led people to their executions every day. It was there that he gave hope to those sentenced to death and opened for them the doors of life. It is impossible to find a better example of a holy person who would be an exemplary priest who serves prisoners and provides hope for the hopeless," noted UGCC Prelate.
He also reminded all that this pilgrimage is a time during which faithful thank God for 25 years of freedom of our Church. A Church which had such saint bishops, as Bishop Velychkovskyj. "When Patriarch Josyf was deported from the former Soviet Union, after being freed from the camps, he called Reverend Velychkovskyj to Moscow, met with him very briefly in a hotel room. Imagine, right there -- under the watchful eyes of the KGB -- he consecrated him as a bishop in a Moscow hotel! And he passed on the leadership of the Underground Church. Being forced against his will to leave his Church in Ukraine, Patriarch Josyf appointed for his Church. And this was Bishop Velychkovskyj who upon returning to Lviv, consecrated bishops, priests – in this way the Church survived. It could, in a dignified manner, as the Resurrected Body of Christ, 25 years ago be officially legalized in that very same Soviet Union which very soon afterwards fell apart," related His Beatitude Sviatoslav the history to the youth.
He reminded all that exactly 25 years after the legalization of UGCC, our Church once again received a threat that the legal status would be taken away, that they will take away the permission to freely confess one's faith. "Do you remember when it happened?" - asked the Prelate the audience. I received this letter from the government of Yanukovych on January 6th, as a Christmas gift. However, this government is no more. That president is no longer. And our Church is and will continue to be. And while there still are you, the faithful, especially the young faithful, these people and this nation have a future."
Then His Beatitude Sviatoslav answered questions from young people. They asked him how a Christian should act during war and whether he has a right to kill; about what today is the bigger expression of love: to fight and die for Ukraine or to live and work for the family?
At the end, the group "Gloria" presented UGCC Head with the gift of a song and from the youth His Beatitude Sviatoslav received a T-shirt. Before his meeting with youth, His Beatitude Sviatoslav prayed for Ukraine in front of the miraculous icon of the Blessed Mother of Zarvanytsia. He was ceremonially greeted by the faithful in front of the Church, where the icon is displayed.
Rev. Oleh Kharyshyn
Manager, Press Service of Ternopil-Zboriv Archeparchy
MEDIA