The Patriarchal Pilgrimage Center of the UGCC organized a pilgrimage to the Holy Land
Wednesday, 03 October 2012, 13:06
Over the period of 12-19 of September 2012, a group of pilgrims, which was organized by the Patriarchal Pilgrimage Center of the Ukrainian Greek Catholic Church, visited the Holy Land. The program of a visit was organized in such a way that the pilgrims were able to discover a lot of places that are described in the New Testament, and to experience them. Particularly, each day, the pilgrims participated in the Liturgy in the place, where once Jesus Christ and the Apostles preached. Nazareth, Cana of Galilee, Capernaum, Jericho, Mount Tabor, Mount of Beatitudes, Mount of Temptation, Golgotha, Bethlehem, Jerusalem, Galilee Sea, the Jordan River – are only some of the stops in the list, during which Fr. Volodymyr Kmet' and Fr. Ihor Andriychuk, who accompanied the group, reminded about the events which took place two thousand years ago.
Despite the fact that the age of the pilgrims ranged from 21 to 77 years, and the geography of residence included not only different regions of Ukraine, but also Russia and even the United States of America, all of them were equally interested in listening to the stories of guides, who were constantly accompanying the group and were giving the detailed answers to all questions.
The organizers also took care about the relaxation. In addition to the comfortable rooms in Nazareth and Bethlehem, pilgrims were also able to enjoy the rest in three seas: Galilee, the Dead and the Mediterranean ones, what only increased the amount of unforgettable impressions.
Moreover, the Patriarchal Pilgrimage Center took care of making the unforgettable impressions of pilgrims to last as long as it is only possible. For this purpose, the professional videographer was included into a group; as soon as he returned to Ukraine, he began creating the documentary about this trip.
Press Service of the Patriarchal Pilgrimage Center
PUBLICATIONS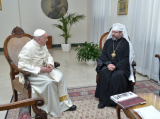 3 July at 10:00 AM, at Casa Santa Marta in the Vatican, Pope Francis met with His Beatitude Sviatoslav. The meeting was held at the request of the...
MEDIA