The Pope's Speech on Europe: powerful and encouraging
Saturday, 07 May 2016, 22:30
Reaction of Fr Patrick H. Daly, Secretary general of COMECE, to Pope Francis acceptance speech, on receipt of the Karlspreis:
'COMECE cannot but welcome Pope Francis' powerful evocation of all the ideals to which the founding fathers of the European project aspired in an imaginative, optimistic and challenge rallying cry to a continent he referred to from the outset as "beloved".  
The Pope singled out the creative curiosity which has characterised the European spirit throughout history, he pointed to strategies which can lift Europe out of its current crisis, he urged inclusion of all citizens on the rising tide a successful return to foundational values promises to being - the poor, the infirm, and particularly our young generation - and pleaded for a new humanism.  
The Holy Father's acceptance speech, on receipt of the Karlspreis, is a huge source of encouragement to COMECE and all who work in the interests of the unique contribution which, in the name of the Catholic Church, its bishops and its Brussels-based Secretariat strive to make in furtherance of the European project and in the creation of a community of values concordant with the vision of the Christian gospel.'
PUBLICATIONS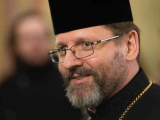 "Every effort must be made to restore the original unity of the Church of Kyiv in its Orthodox and Catholic branches".
MEDIA