The portable iconostasis and altar were sanctified for the German Catholic organization " Renovabis "
Tuesday, 10 September 2013, 16:33
"Europe – is not only the rescue of euro but above all fostering peace and freedom» - these words by Cardinal Reinhard Marks opened the 17th International Congress " Renovabis." The event was held from 29 August to 1 September in Bavaria Freising (Germany) under the slogan of "Free and solidary Christians in the sense of responsibility for Europe. "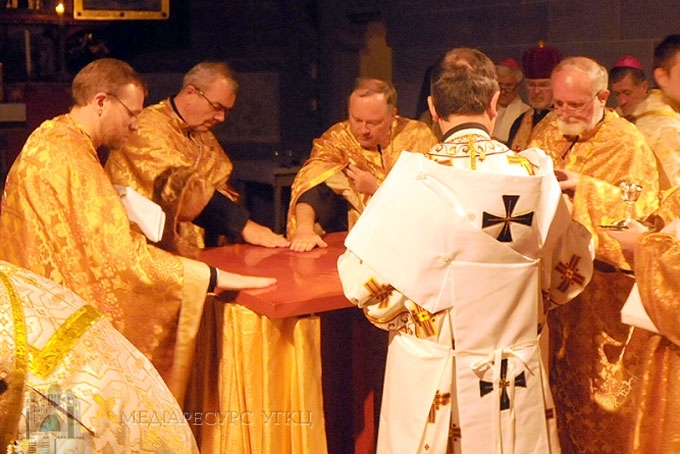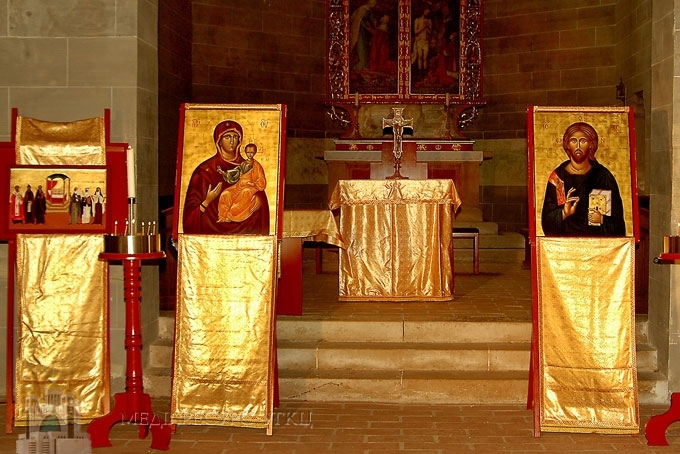 From the Ukrainian Greek Catholic Church, the Congress was attended by Bishop Petro( Kryk ), Apostolic Exarch in Germany and Scandinavia , Fr. Dr. Oleksandr Petrynko , Vice -Rector of the Eastern Collegium (in Eichstätt ), Fr. Dr. Igor Shaban, head of the Christian Unity Commission, Andriy Vaskovych , director of Caritas in Ukraine , Ukrainian Catholic University Professors Myroslav Marynovich and Oleg Turiy.
The event was a special occasion – the portable iconostasis and altar consecration. The idea of creating such a church outfit was offered by the head of "Renovabis "Fr. Stephen Dartman a year and a half ago.
At his request, a former chief architect of Eichstätt eparchy (Bavaria) Carl Fry and Fr. Dr. Oleksandr Petrynko designed a project, according to which the portable iconostasis, the altar and the credence table were built, as well as a celestial pew and candlesticks. In the future they will be used for divine services at various events and conferences of " Renovabis ." A special feature of the iconostasis is an icon of patrons of Europe: Cyril and Methodius, the Apostles of the Slavs, St. Benedict of Nursia , Saints Brygitta , Catherine of Siena and Edith Stein .
The rite of iconostasis and altar consecration in concelebrating with sixteen bishops and priests from different churches was accomplished by Archbishop Cyril (Vasyl), Congregation Secretary for the Oriental Churches. Solemnity was enriched by East Collegium students' singing.
Before the Mass, Fr. Oleksandr Petrynko addressed the gathered in prayer with thematic presentation on the history of the iconostasis development in the Eastern churches. In his report he noted in particular that "newly sanctified portable iconostasis and altar for the Mass in the Eastern tradition is a visible sign of partnership and cooperation of charitable organization" Renovabis " with churches in Eastern Europe, they create a platform for the exchange of spiritual gifts among Christians of the West and the East. We are brothers and sisters of the Ukrainian Greek Catholic Church sincerely appreciate our friendship and very grateful to God for our cooperation with you. "
PUBLICATIONS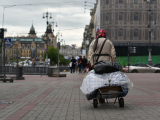 Pastoral Letter of the Synod of Bishops of the Ukrainian Greek-Catholic Church of 2020 to the clergy, religious, and laity...
MEDIA