The Prime Minister of Ukraine met with the Ukrainian community in Rome
Saturday, 26 April 2014, 15:38
Today, at 1 o'clock, Arseniy Yatsenyuk, the Prime Minister of Ukraine, visited Saint Sophia Cathedral in Rome - the main Ukrainian sanctuary abroad. Ukrainian Premier was met by His Beatitude Sviatoslav, the Head of the UGCC.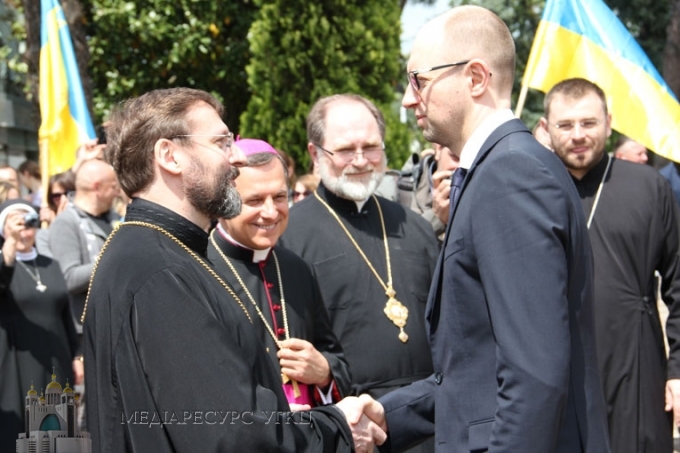 Arseniy Yatsenyuk met with the Ukrainian community in Rome shortly after his visit to the Vatican, where he had an audience with the Pope Francis and met with the Cardinal Pietro Parolin, the State Secretary of the Apostolic See. Prime Minister lit a candle in front of Heavenly Hundred memory wall, on which the pictures of fallen heroes of Maidan are situated and held a briefing for Ukrainian and foreign media. So Yatsenyuk visited Saint Sophia Cathedral, where the prayer for Ukraine took place. Answering the question about the purpose of his visit to the Holy Father, the Prime Minister said that "he came to ask the Pope to pray for Ukraine and Ukrainian people and support us in this difficult time". The Head of Ukrainian was accompanied by Acting Foreign Minister Andriy Deshchytsya, the ambassador at the Holy See Tetyana Izhevs'ka and the ambassador at the Republic of Italy Yevgen Perelygin. To the meeting with the Prime Minister came the representatives of clergy, monastic orders and congregations, boards of administration of the papal Ukrainian collegium and Ukrainian community in Rome. Yatsenyuk thanked everyone for being present and said that the Ukrainian government feels the support of foreign Ukrainians. We need to add that Yatsenyuk met with the Holy Father on the eve of an important event in the history of the Catholic Church - the canonization of two prominent Roman Bishops of the last century: Pope John XXIII and Pope John Paul II. At a meeting with Ukrainian officials Francis Pope granted him a pen, adding: "I hope that a peace agreement will be signed with this pen". The Ukrainian official presented the Holy Father with a picture of events at Maidan. In addition, he also met with the Prime Minister of Italy Matteo Renzi, who expressed his support for political and economic reforms in Ukraine. Press office of the "Saint Sophia" association
PUBLICATIONS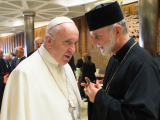 An unprecedented event took place in Rome on July 5-6. Desiring to demonstrate support for the Ukrainian Greek-Catholic Church at a time of...
MEDIA