The Research-to-Practice conference of the Patriarchal Catechetical Commission started off in Lviv
Wednesday, 28 November 2012, 22:39
During the 26th-28th of November 2012 in the Retreat and Recreation center of Lviv Archeparchy of the UGCC, which is located in Bryukhovychi, Lviv region, the Research-to-Practice conference of the Patriarchal Catechetical Commission is taking place. Among those, who participate in the meeting there are: Bishop Petro (Stasiuk), who is the Bishop for Ukrainian Catholics in Australia, New Zealand and Oceania, as well as, the head of the Patriarchal Catechetical Commission of the UGCC; sister Louise Tsyupa, who is the deputy head of the Patriarchal Catechetical Commission of the UGCC; over 40 participants from Ukraine, Brazil and from some European countries, in particular the ones responsible for catechetesis in dioceses and exarchates, as well as the representatives of religious orders and communities of the UGCC.
The goal of the conference is to consider the issue of catechetical ministry of the UGCC: the program and writing of the catechumenate textbooks, catechetical strategy, adaptation of the existing catechetical programs, which are in concordance with the new UGCC Catechism "Christ - our Passover", and the current needs of society. Also during the conference, there will be a brief presentation about the catechetical ministry in Europe and Ukraine.
UGCC Department of Information
PUBLICATIONS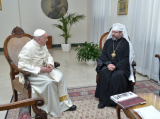 3 July at 10:00 AM, at Casa Santa Marta in the Vatican, Pope Francis met with His Beatitude Sviatoslav. The meeting was held at the request of the...
MEDIA