The Taizé prayer took place in Kyiv
Thursday, 19 September 2013, 13:33
The first ecumenical Taizé prayer after the summer break took place on the 14th September, 2013 in the temple of Mykola Dobryi in Podil. Young people of different faiths prayed for peace in Syria.
An important element of this prayer was the presence of br. Richard from Taizé community on it.
This year many young people could visit the town of Taizé in France during the summer and pray together. Perhaps, the memories of the summer meeting and the presence of br. Richard helped to create an unforgettable atmosphere of the joint ecumenical prayer. The Taizé Prayer is special as it incites to deep thoughts about one's spiritual life.
Between the short songs accompanied by musical instruments (bandura and guitar) young people were listening to readings from the Sacred Scripture in Ukrainian and English, they experienced with br. Richard his reflection on a particular extract and prayed in silence.
After praying in a free atmosphere over a cup of tea people communicated with the French guest and friends from other communities and faiths.
A new permanent expression "the spirit of Taizé" appears in the vocabulary of people who at least once visited the Taizé international meeting ( either The New Year European Meetings , or the summer meetings in Taizé ).Every time during the prayers in the temple of Mykola Dobryi the youth tries to catch this " spirit of the prayer ". Those who want to experience it fully , are invited to join the European New Year Taizé meeting , which is going to take place in Strasbourg ( France).
Note: Taizé is a town in the South of France , where the ecumenical community of brothers ,which organizes special joint prayers for youth all around the world, was founded. The Taizé Prayers in Kiev usually take place every last Sunday of the month.
We invite everyone to unite in the prayer next month.
http://academchaplaincy.org.ua
PUBLICATIONS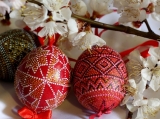 Most Reverend Archbishops and Bishops, Very Reverend and Reverend Fathers, Venerable Brothers and Sisters in Monastic and Religious...
MEDIA