The UGCC initiates the collection of books of Holy Scripture for the penitentiary
Tuesday, 09 October 2012, 12:07
The penitentiary Pastoral Care of the UGCC initiates the charitable action- the collection of books of Holy Scripture, in both Ukrainian and Russian languages, in the parishes of the Ukrainian Greek Catholic Church for the Ukrainian Penitentiary Institutions. The collection of Bibles will last from 7th to 28th of October 2012.
It should be reminded that the last Sunday of October, the Day of Bible is celebrated in Ukraine. However, since on the 28th of October, elections to the Verkhovna Rada of Ukraine will be held, activities for the prisoners will be transferred for the one week later, that is, for the 4th of November 2012.
To get the contact details of the local chaplain or any information about the nearest penitentiary institution, which can be visited, and about the implementation of necessary conditions for admission to a particular institution, you should call Fr. Costyantyn Panteley: +380984229221.
UGCC Department of Information
PUBLICATIONS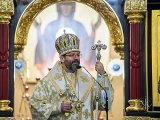 Head of the Ukrainian Greek Catholic Church brings multifaceted experience to project of evangelization.
MEDIA