The UGCC marks the anniversary of the departure into eternity of His Beatitude Lubomyr
Wednesday, 23 May 2018, 19:54
On May 31, 2018, at 9:00 am in the Patriarchal Cathedral of the Resurrection of Christ, the events commemorating the anniversary of the departure to eternity of His Beatitude Lubomyr will begin.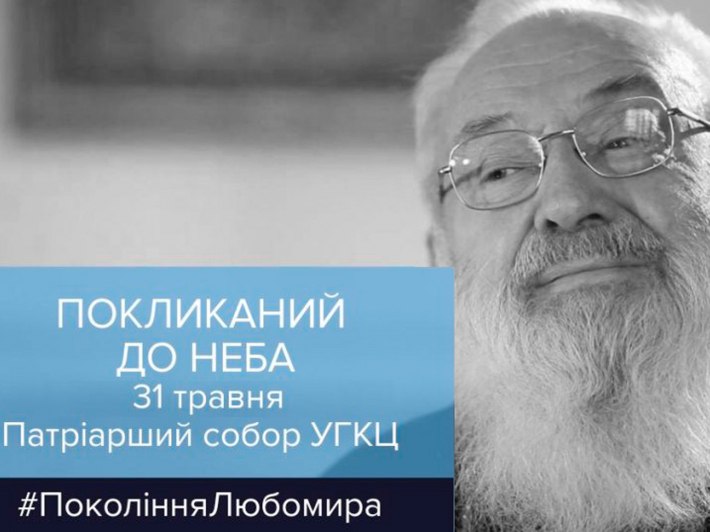 Honoring the memory of His Beatitude Lubomyr will begin with the Hierarchical Divine Liturgy, led by His Beatitude Sviatoslav together with the Bishops and clergy of the UGCC. Afterwards, the Panahyda will be held in the crypt of the Patriarchal Cathedral, where Beatitude Lubomyr's body rests.
Commemoration of his memory will continue at 18.00 in the evening. For the first time in the cathedral Vespers will be served, led by Bishop Josyph (Milian), Axhiliary Bishop of Kyiv Archeparchy. After the prayer, the Bishop will deliver the speech "Patriarch Lubomyr - the Man of God".
Later, the movie "Lubomyr" will be shown, and at the end of the day, All-night Vigil will begin.
The organizers of the Vigil is the community "The Generation of Lubomyr," whose members are invited to join together in a special prayer for the person who was a man of freedom, a man of dignity and morality, for someone who was CALLED for HEAVEN.
"We will pray together, recalling our Patriarch Lubomyr, who has been residing for a year now with our Heavenly Father. During this year we have heard dozens of stories about how His Beatitude Lubomyr changed the life of a certain person! Stories about how he showed charity, gave advice, listened, talked, helped! He loved the world and people around him so much! But always the prayer for the Beatitude - this special meeting with God - was a priority! That is why, on the anniversary of the departure of His Beatitude, we will honor him, pray and meditate. Let us ponder the example of a particular person who was able to dedicate his life to God and follow Him with absolute trust, for we are all called to holiness. Love for God and love for one's neighbor was the basis on which His Beatitude Lyubomyr built his life," explain the organizers.
Earlier, in Kyiv a unique Bible for children was presented, which is written in Braille. Its publication was dedicated to His Beatitude Lubomyr Husar.
Another important event in the commemoration of His Beatitude Lubomyr will be held on Saturday, May 26, 2018, at 5:00 pm. This day in the village of Kniazhychi in Kyiv region in the building where the Bishop lived the last ten years of his life (Lubomyr Husar Lane, 10) the memorial plaque in his honor will be opened and consecrated.
His Beatitude Sviatoslav, the Head of the UGCC, will open and sanctify it.
MEMORIAL ACTIVITY PROGRAM
Thursday, May 31
9.00 - Hierarchical Divine Liturgy (information for the clergy: red clothing)
11:00 - Panahyda
18:00 - Evening. The Word of Bishop Josyph "Patriarch Lubomyr - the Man of God"
19:30 - "Lubomyr" film show
20:00 - Panahyda in the crypt of the Patriarchal Cathedral
20:30 – All-night Vigil.
More info by phone: +38 096 594 95 91 – Fr. Andriy
Press service of Kyiv Archeparchy
MEDIA