The UGCC's inter-eparchial subcommittee "Life in Sobriety" reaches a new level of activity
Tuesday, 09 June 2009, 18:09
From June 1st to the 2nd in the city of Ternopil' the UGCC's inter-eparchial subcommittee "Life in Sobriety" organized a scientifically-practical seminar for all the heads of the eparchial subcommittees. A new method of pastoral service for the co-addicted was presented based on a soon-to-be-published manual "Spiritual Therapy for the Co-Addicted."
From June 1st to the 2nd in the city of Ternopil' the UGCC's inter-eparchial subcommittee "Life in Sobriety" organized a scientifically-practical seminar for all the heads of the eparchial subcommittees. A new method of pastoral service for the co-addicted was presented based on a soon-to-be-published manual "Spiritual Therapy for the Co-Addicted." "The co-addicted are people who are adversely affected by the alcoholism of a loved one. The experience of co-addiction, just like the actual addiction itself, is an illness of the soul and psyche, and in time can present physiological symptoms as a result. Over the years, a co-addicted person can begin to experience overwhelming heartache and feelings of fear, guilt, shame as well as anger. Their internal world becomes completely focused on the alcoholism of that person and thusly their capacity for self-realization and spiritual growth is seriously compromised" explained Fr. Andrey Login, PhD, head of the inter-eparchial subcommittee "Life in Sobriety," to the Information Department. According to Fr. Andrey, the method of spiritual therapy will help a co-addicted person to return to God so that He can recover their ability to see their own true self and to heal and rescue their wounded soul. "Through their own revelation and healing, the converted person will have the strength to help their loved one, who is dependent on alcohol, start the path to recovery" he said. In addition to the information presented from the manual, the heads of the eparchial subcommittees were able to learn from the experiences of the "Consultative-Advisory Support Center for Alcoholics and their Families." The seminar participants became particularly familiar with methods that aim to popularize the sober way of life in the parish, including: at school, among civil servants, entrepreneurs, as well as the general parishioners. With this aim, the participants made the trek to the village Velyki Birky, near the city Ternopil.' The inter-eparchial subcommittee "Life in Sobriety" of the UGCC, at the present time, is working towards the creation of consultative-advisory centers to help support alcoholics and their family members from different eparchies of Kyiv-Halych Metropolitanate.
Information Department of the UGCC
PUBLICATIONS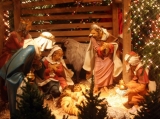 Christ is Born! "Today Christ is Born of the Virgin in Bethlehem. Today, the eternal One has a beginning, today the Word becomes...
MEDIA