"The whole epoch of our Church goes to eternity together with father Ivan Muzychka", - the Head of the UGCC
Wednesday, 24 February 2016, 11:05
Staying with a working visit in Rome His Beatitude Sviatoslav, the Head of the UGCC brought his consolation in relation to the death of father Ivan Muzychka, one of the most famous priests of UGCC and associate of Patriarch Josyf (Slipyj) for many years.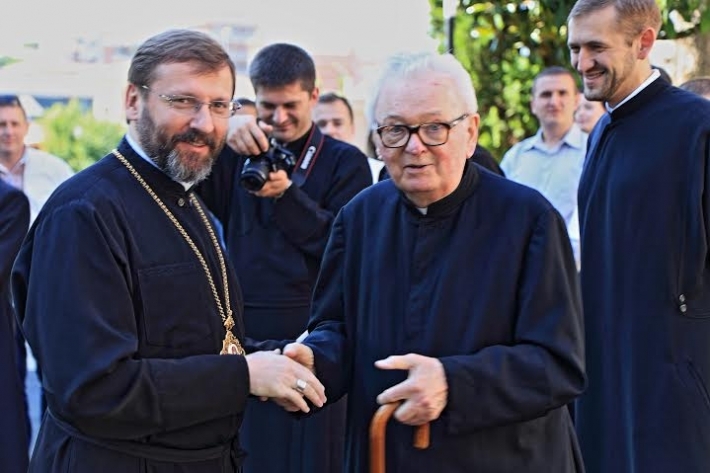 A few minutes after father's Ivan death, His Beatitude Sviatoslav prayed Panakhyda on the deceased in co-service with bishop Volodymyr, Metropolitan of Ivano-Frankivsk and bishop Venedykt, bishop-auxiliary of Lviv Archeparchy.
Expressing his consolation for the death of father Ivan, the Head of the Church mentioned, "besides all the titles of father Ivan, first of all, we will remember him as a good mentor who taught us to love God and Ukraine". "We believe, everything what father Ivan left as a heritage for his Church, has already brought its abundant fruits", added the Head of the Church.
We want to add that that father Ivan Muzychka rested in peace on his 95th year of life in the evening of February 22nd after a few months lungs' disease and a twofold hospitalization.
Funeral services will be held on Thursday, Feb 25th. Divine Office of the Dead and the Funeral service in the crypt St. Sophia Cathedral will lead His Beatitude Sviatoslav.
Press-Service of "Saint Sophia" Community
MEDIA