The Youth Commission of the UGCC proposed to create the Common Database for the Youth Apostolate
Sunday, 07 October 2012, 20:12
The Head of the UGCC Commission on Matters of Youth, Fr. Rostyslav Pendiuk, with the support of the Head of the UGCC and the Synod of Bishops of the UGCC, urges youth to establish the Common Youth Space for the UGCC. To do this, representatives of the Commission, first of all suggest creating the Common Database for the Youth Apostolate of the Church.
For his part, Fr. Rostyslav promises to facilitate the implementation of youth projects, to support the development of youth communities, and therefore he invites each young person as well as members of Christian communities and organizations to send their ideas, needs and wishes.
Sometimes, a number of young people, who are full of initiative, are convinced that their efforts are useless, that they cannot change anything, that they are alone in their endeavors, but this is not true! We are many and God is with us! We face a number of challenges, however together we can put up resistance. It is only together, that we can overcome depression, hopelessness, apathy, and many other negative phenomena. What is needed for that? First of all, that is our unity! "- noticed Father Rostyslav Pendiuk.
The information about the Christian organizations for youth/ parish communities for youth: plans for the 2013, photos, videos; the upcoming youth pilgrimages, camps, conferences, trips, forums; interesting and original ideas; volunteer activities; activities of the university chaplaincy; holiday scenarios and other events - should be sent to the email: molod.ugcc @ gmail.com
For more information call: 097 588 85 54, 050 07 07 383 – or visit website: www.dyvensvit.org
Address: the UGCC Commission on Matters of Youth, st. Ozarkevycha 4, Lviv.
UGCC Department of Information
PUBLICATIONS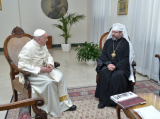 3 July at 10:00 AM, at Casa Santa Marta in the Vatican, Pope Francis met with His Beatitude Sviatoslav. The meeting was held at the request of the...
MEDIA