The Youth Congress, dedicated to the Year of Faith, took place in Obera city (Misiones, Argentina)
Saturday, 06 October 2012, 19:01
On the 30th of September 2012 in the Parish of the Immaculate Conception of the Blessed Virgin Mary in Obera city (Misiones, Argentina), with the blessing of Bishop Daniel (Kozlinskyi), who is the Apostolic Administrator of the Diocese of the Holy Virgin in Argentina, the 23rd Congress of Youth, dedicated to the Year of Faith, under the slogan - "Blessed are those who have not seen and have believed", took place. The congress was organized by the parish community of Obera city, which is run by the Basilian Fathers of the province of Argentina. This kind of congresses is designed with an objective to encourage young people to live and deepen their spirituality and actively participate in the parish and in the Christian life.
This event was attended by about 500 young people from all parishes of the Greek Catholic Church, which are located in the province of Misiones (northern part of Argentina). The program of the Congress began with the short theatrical performance of youth from the Obera city Parish. Then, Fr. Hector Zimmer, who is the administrator of the parish in the Posadas city, held a conference on the Christian faith. At 11.00, the congress participants participated in the Divine Liturgy, which was headed by the Bishop Daniel. In his sermon the priest urged "not to be afraid to open the door of faith, for in those doors is always Christ." Among those who confessed and concelebrated with the bishop were the Basilian Fathers and the priests of the northern region of Argentina.
The congress ended with the Apostolate Presentation and with the youth charity of the parishes of Apostoles and Posadas cities, as well as, with the selection of the venue for the next Congress.
The symbol of this year's Congress was the logo, designed and adapted to our rite by Fr. Andriy Koropetskyi (who is the Provincial Superior of OSBM), by Fr. Guillermo Andrukhovych, OSBM, and by Rodrigo Andrukhovych. It depicts the boat, which is the symbol of the Church, the cross and the sail with the inscription "IC XC NIKA".
For the UGCC Department of Information
Fr. Nazariy Kashchak, the chancellor
PUBLICATIONS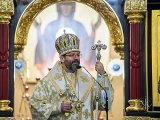 Head of the Ukrainian Greek Catholic Church brings multifaceted experience to project of evangelization.
MEDIA