"To say that the UGCC supports a certain part of Ukrainian society means to assert that there is a civil war in Ukraine" - the Head of the UGCC
Saturday, 18 October 2014, 16:41
We, as pastors, definitely sided with only one party - the Ukrainian people, never distinguishing between "easterners" and "westerners", Russian-speaking and Ukrainian-speaking. At the Maidan, as now, we were all together and we are as a society, one nation of Ukraine: Catholics, Orthodox, Protestants, Jews, Muslims.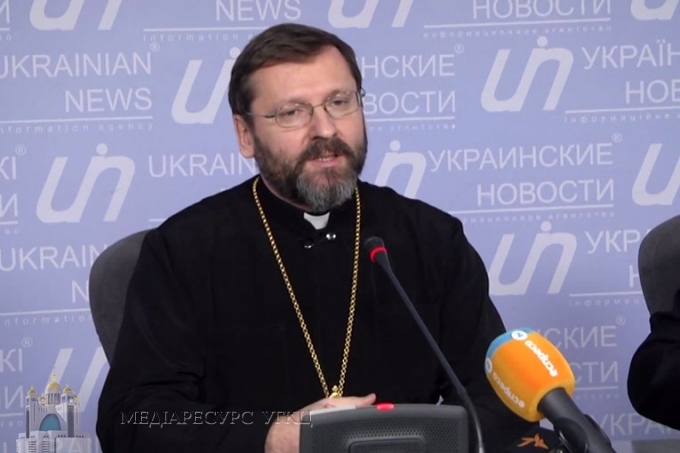 That was said by the Father and the Head of the UGCC His Beatitude Sviatoslav in the air of SiriusXM The Catholic Channel, commenting on the speech at the plenary session of the Synod of Bishops at the Vatican on 16, October, 2014, of Metropolitan of the Russian Orthodox Church Ilarion Alfeyev, who again spoke about the problems of the union, which, in his opinion, heightened in connection  with the recent events in Ukraine.
The Head of the Church emphasized that the Greek Catholics as believers and clergy of the UOC-MP, representatives of other faiths of Ukraine, prayed at the Maidan, were among the wounded, needy, tried to dialogue with the President and all parties of opposition to preserve peace and prevent bloodshed.
"This Christian ministry was not intended to entice someone to our church or make someone Greek Catholic. We  were willing to stand to the end with our people, without asking anyone what church he goes or political party supports"- He said.
Therefore, according to His Beatitude Sviatoslav, to say,that  the Greek Catholic Church seems to support some part of Ukrainian society - means "to deny reality in the name of alien to us ideology, which today claims that Ukraine is in a civil war, not a war against foreign aggression".
"I believe that the Church of the Moscow Patriarchate can do far more for de-escalation of violence in Ukraine and reconciliation between Ukraine and Russia than it has done until now", - said the Head of the Church.
He pointed out, if at least the church hierarchy no longer attack each other in their statements, declarations and appeals, then with this they would make much "to have peace in our land and the children of our Churches not to die".
UGCC Department of Information
PUBLICATIONS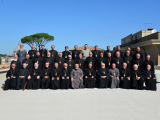 And you shall know the truth, and the truth shall set you free (John 8:32)
MEDIA