Training course for military chaplains was launched in Lviv National Army Academy
Thursday, 23 November 2017, 22:51
November 20, 2017 at Petro Sahaidachnyi National Army Academy in Lviv was launched a training course for military chaplains, elaborated by general staff of Armed Forces of Ukraine.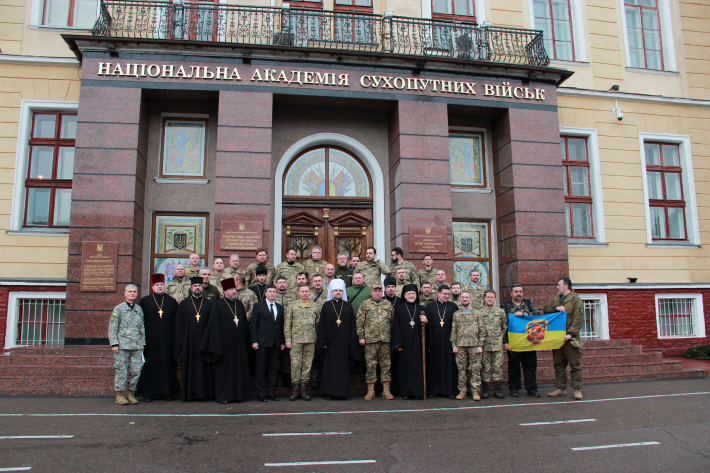 All priests who are passing the training will be able to learn basis military instruction, pass military humanitarian and military psychological training, also having an opportunity to share experience of chaplain's ministering in Ukraine's army divisions.
The training started with an ecumenical prayer in St. Michael church, located in the territory of National Academy. The prayer was led by head of the Chaplain's Department of Patriarchal Curia of UGCC bishop Mykhailo Koltun and head of Synodal government of military clergy of UOC KP bishop Ioan Yaremenko.
"Chaplain's ministering is an inevitable part when it comes to defending dignity and life of military man, in the case of defending Motherland. We are standing before the most important task – to preserve life of everyone… That's why we, chaplains, devote ourselves to incorporate this Good News about God's love, granted to preserve life, in heart of every soldier. With love, not with weapon we can truly win, as Jesus said. May God bless all our trying now and on and lead us to our successful vocation and service", bishop Mykhailo, head of head of the Chaplain's Department of Patriarchal Curia of UGCC.
Western Bureau of "Live.TV" by materials of www.sokaleparchy.org.ua
PUBLICATIONS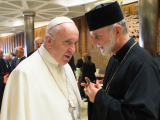 An unprecedented event took place in Rome on July 5-6. Desiring to demonstrate support for the Ukrainian Greek-Catholic Church at a time of...
MEDIA