UCEF Chief Visits Arizona Parish
Tuesday, 24 February 2015, 14:22
Alexander Kuzma, Chief Development Officer of the Ukrainian Catholic Education Foundation (UCEF), visited St. Michael's Ukrainian Catholic Church in Tucson, Arizona, on February 22. Kuzma presented "Good News from Ukraine," a report on the successful work of the Ukrainian Catholic University in Lviv.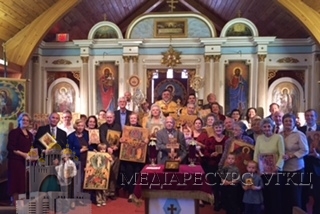 In the midst of all the distressing developments following the Maidan massacre and the Russian invasion of Ukraine, parishioners found it refreshing to hear some good news coming out of the war-torn country.
More information about St. Michael's Church
The small but vibrant St. Michael parish in Tucson, AZ celebrated the First Sunday of the Great Fast with an icon procession around the outside of the church in honor of the victory of Icon veneration over the heresy of iconoclasm. Celebrated annually since the year 843 AD, this Sunday is also called "The Sunday of Orthodoxy." Taking advantage of Tucson's balmy climate, the parish holds an outdoor procession every year, with stational prayers at the four sides of the church/hall complex. "It's an important way to manifest our faith to the surrounding neighborhood," explains Fr. Andriy Chirovsky, pastor of the parish and professor of Eastern Christian Theology and Spirituality at Ottawa's Metropolitan Andrey Sheptytsky Institute of Eastern Christian Studies, where one of his most popular courses is titled "Theology and Spirituality of Icons."
The Ukrainian community in Tucson is preparing an exhibit honoring Taras Shevchenko that will be held at the University of Arizona Student Union Gallery in the month of March. the exhibit is being prepared by Dr. Ihor Kunasz, with assistance from the San Francisco Consulate General of Ukraine.
Source:ucef.org
PUBLICATIONS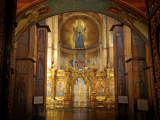 Dear brothers and sisters in Christ! Throughout our millennial history, our Church and our people have fully experienced in their bodies the...
MEDIA