UGCC army chaplains support army troops at hot points
Friday, 28 March 2014, 14:41
Rev. Lubomyr Yavorskyi, the vice-director of the Department, together with Rev. Ivan Hnativ, the army chaplain of the Sambir-Drohobych Eparchy, gathered to discuss the summaries and the plans for the future as a follow-up to the five-day pastoral visit to the army units who are dislocated in the south and the souteeast of Ukraine.
Rev. Lubomyr Yavorskyi shared what he experienced during the visit to the army units and the directing of chaplains to army forces. The issue of multi-confessional spiritual care in times of heightened war alert also became a topic of discussion.
As Rev. Lubomyr mentioned, during the visit the chaplains passed on to the army units copies of the prayerbooks of the forces Pray and Serve! and rosaries.
At present, UGCC sends willing chaplains who have completed preparatory training to the army units in the southern and southeastern territories of Ukraine.
"The absence of the Institute of Army Chaplaincy does not does not permit us today to fully support our armed services; however, the slogan "Always by you" is being fulfilled. We are at the hot spots, we are next to them, in spite of the fact that there is no legal law supporting it," said Rev. Lubomyr Yavorskyi.
Such trips are planned and will take place if there is a need for them – and right now there is…
Trip impressions were also shared by Rev. Ivan Hnativ, who went on to visit those soldiers whom he had blessed for service in Drohobych.
"I was touched when I met the eyes of those in my care, brethren whom I had recently blessed. This was a meeting of close, dear people," said the chaplain. Such an experience adds strong inner strength to the pastoral care, especially at a tense time. I myself had the experience of feeling that I am needed as a pastor – and this is the essence of the cooperation between the Church and the army.
Department of Army Chaplaincy
PUBLICATIONS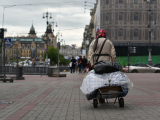 Pastoral Letter of the Synod of Bishops of the Ukrainian Greek-Catholic Church of 2020 to the clergy, religious, and laity...
MEDIA