UGCC began the Year of Metropolitan Andrey Sheptytsky
Saturday, 01 November 2014, 12:02
Today, November 1, on the 70th anniversary of the departure into eternity, with the Divine Liturgy in St. George's Cathedral, the Ukrainian Greek-Catholic Church solemnly celebrated the Year of Metropolitan Andrey Sheptytsky.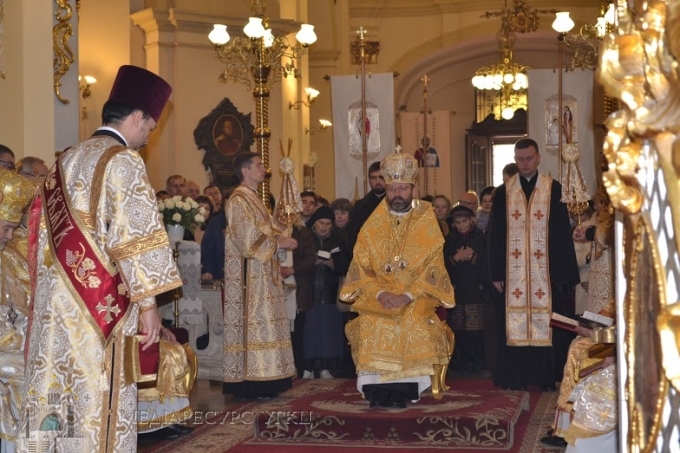 The Divine Liturgy was led by UGCC Father and Head, His Beatitude Sviatoslav (Shevchuk). During the sermon he thanked God for the person of Servant of God, Metropolitan Andrey, who was "the doors to eternity for his people".
According to His Beatitude Sviatoslav there is no aspect or activity in the Ukrainian Greek-Catholic Church in the 20th century which has not been marked by the figure of the Metropolitan Sheptytsky, his work, his prayers, his benevolence. And above all – his pastoral wisdom.
UGCC Prelate related how Patriarch Yosyf once remembered an event. In 1944, when Soviet forces once again occupied Lviv, he went to Metropolitan Sheptytsky and said: "Again, probably, difficult times are coming for our Church. Probably there again will be persecution and destruction." To this he heard an answer: "Nothing worse than death will not happen. And one has to earn a good death."
"Even in the face of his death, the Metropolitan was a witness to the resurrection. In getting closer to his beautifical ending, he saw a resurrection – the resurrection of his Church which, according to his prophecy, would be persecuted, destroyed, but will resurrect. And it will shine in Ukraine and throughout the world. That resurrection which we solemnly celebrate during these days," emphasized His Beatitude Sviatoslav. The preacher reminded how many people, who during the troubled war times crossed the threshold of the Metropolitan Palace, felt that they had entered into some special time and space. "Metropolitan Andrey was that person from whom a strange peace exuded, a peace during a war. And this was felt by all, no matter which church, religion or country they belonged to. He was the doors to eternity and a sign of the presence of God among his people as a holy, great man. He was that church of the Holy Spirit, in which God rested, through which He blessed his people and addressed them with the words of eternal life," said UGCC Head.
Therefore, according to His Beatitude Sviatoslav's words, we rejoice so much in this figure whom we honor today. "We know that today he is standing in front of God's altar. Today he is praying for his people and for his Church to which he dedicated his whole life," the heir arch is convinced.
UGCC Department of Information
PUBLICATIONS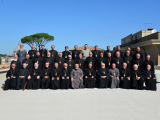 And you shall know the truth, and the truth shall set you free (John 8:32)
MEDIA