UGCC has organized an exhibition that highlights the daily life of the Jewish people
Wednesday, 29 January 2014, 14:25
In the Institute of Religious Sciences of St. Thomas Aquinas in Kyiv the exhibition "The people of the book " was opened.
Organized by Ukrainian Greek Catholic Church on the occasion of the II Judaism Day exhibition highlights the daily life of the Jewish people. The works of Borys Bukhman, Roman Vilenskyi, Vitaliy Oplachko, Yevgeniya Ilyina and Shlomo Nizina reproduce two cycles: the cycle of human life and the liturgical calendar cycle.
During the opening the representative of the Jewish Religious Organizations Union of Ukraine and the Rabbinical Council of the Jewish conference of Ukraine Genadiy Bilorytskyi told about the life of Jewish communities, especially the holidays you can see in the pictures: Brit - Mila (circumcision), hupu (wedding), Tu BiShvat (New Year of the trees), reading, transcribing and carrying of the Torah into the Synagogue and others. Overall, the exhibition includes 61 photos.
Note: In recent decades, in a number of Christian churches in Europe the interest in Judaism can be traced, that is why the II European Ecumenical Assembly in 1997 proposed to carry out each year in January, the Day of Judaism in all European countries.
We recall that in Ukraine the Day of Judaism is held for the second time.
Ecumenical Commission of the UGCC
PUBLICATIONS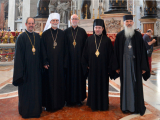 Glory to Jesus Christ! Beloved Brothers and Sisters in Christ!
MEDIA