UGCC Head at the commemoration of the victims of the Holodomor: "If we forget about the Genocide, then it can repeat itself."
Sunday, 23 November 2014, 11:54
"Today Ukraine is remembering and praying. It remembers the millions of innocent ones who were starved to death in one of the most fertile lands in the world," stated the Father and Head of the Ukrainian Greek-Catholic Church, His Beatitude Sviatoslav, today during the official commemoration attended by President of Ukraine Petro Poroshenko and Prime Minister Arseniy Yatseniuk on Memorial Day for the Victims of the Holodomor-Genocide during 1932-1933, traditionally falling on the fourth Saturday of November.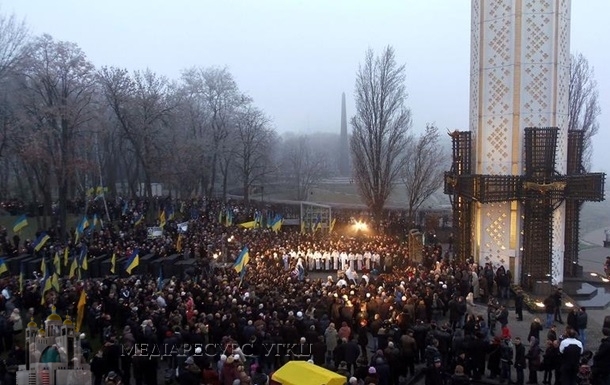 From the Ukrainian Greek-Catholic Church, participating in the commemoration was also Bishop Bohdan (Dziurakh), UGCC Synod of Bishops Secretary.
The Major Archbishop reminded all, that during that time "when millions appealed to God for justice on this land, there were few who talked." Perhaps the only one was the voice of the Servant of God, Andrey Sheptytsky, who together with Ukrainian bishops wrote the famous letter entitaled 'Ukraine in pre-death convulsions.'"
"Today we have to remember, contends the Church Head – to preserve our memory and develop it so that the name of each one who was deprived of a life through such methods, does not disappear from the Book of Memory of our people. We have to remember for the sake of our present, so that also today, this winter, there be none in Ukraine who suffer from hunger. We should remember for the sake of our future, becaue if we forget this genocide, it may well repeat itself."
According to him, the Church and the faithful pray today. "We pray for all: children, women, elderly, the flower of our Ukrainian nation, who were deprived of the right to live, that the Lord God welcome them in his Fatherly embrace. We pray that the Lord God free all of us from sin, hatred, and killing" said His Beatitude Sviatoslav.
After the commemoration of the memory of the victims of Holodomor – Genocide, the All-National
Action "Light a Candle" began.
May their memory be eternal!
UGCC Department of Information
PUBLICATIONS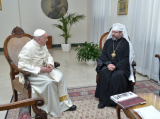 3 July at 10:00 AM, at Casa Santa Marta in the Vatican, Pope Francis met with His Beatitude Sviatoslav. The meeting was held at the request of the...
MEDIA