UGCC Head blessed a monastery of the Redemptorist Sisters in Chernihiv
Saturday, 26 April 2014, 19:41
In Chernihiv the Father and Head of the Ukrainian Greek-Catholic Church, His Beatitude Sviatoslav (Shevchuk) blessed the monastery, church and the cross over the cupola of the monastery of the Community of the Sisters of the Most Holy Redeemer (CSR) (Redemptorists).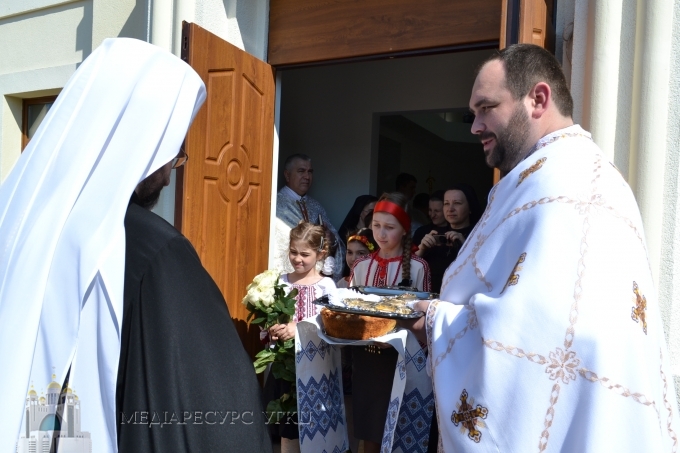 Bishop Bohdan (Dziurakh), Secretary of the UGCC Synod of Bishops, concelebrated with His Beatitude Sviatoslav. The monastery shall bear the name of the Birth of the Most Holy Virgin Mother. The Greek-Catholic parish of the Major Apostles, Saints Peter and Paul in Chernihiv was also transferred here. From now on all liturgies of the parish will take place in the Monastery of the Birth of the Most Holy Virgin Mother.
During the sermon to the faithful in Chernihiv, His Beatitude Sviatoslav noted that April 23rd is a big celebration for Chernihiv, since on this day one more church and a monastery have been blessed.
"The creation of one more home of God, a monastery, is a sign of the resurrection of the spirit of Chernihiv, which was always a center of spiritual life," he said. The preacher emphasized that "here, in this place, God's Word, which is the Word of Life, has to be proclaimed. "Christ says: Heaven and earth shall pass, but my words will not pass. All material churches can be built and destroyed, but the Word of God is eternal. And that Spirit of God which He sends us, cannot be destroyed, because He is the Spirit of Resurrection," contends the Major Archbishop. "Our Church rejoices today," continued UGCC Prelate, "because here is the founding of another monastery in which throughout the day and night prayers will be said to God for Ukraine, for its people. But a monastery is not only a place of prayer, but also a place of service. Nuns come here in order to serve, to bring hope to the despairing, to wipe the tears of those who weep, to feed those who are hungry."
"We believe that every human being is created in the image and likeness of God. Therefore, when we serve others, we are actually serving the Creator Himself," explained His Beatitude Sviatoslav. He greeted the Community of the Sisters of the Most Holy Redeemer and thanked them for their courage. The Prelate remembered his meeting with the Sisters some three years ago when they together decided on the necessity of building a monastery in Chernihiv. After three years the Lord blessed the Sisters' efforts. He also thanked the missionary priests of the Most Holy Redeemer in Chernihiv, who are providing a very important service here. He also expressed his gratitude to all the donors of the monastery. "Their deed will remain a deed created for eternity, since a good deed never disappears," added UGCC Head.
After the blessing of the monastery, His Beatitude Sviatoslav met with the governor of Chernihiv region, Volodymyr Ivashko.
UGCC Department of Information
MEDIA