UGCC Head during a prayer vigil for peace in Ukraine: "The Pope is on the side of Ukraine and its people"
Wednesday, 10 December 2014, 15:40
Freedom of the Church invariably means the pronouncement of the freedom of the person. It is that freedom to which God calls us, arousing the wish to be oneself, to be a person, created in the image and likeness of God. We should once more hear the words of God, said to every Ukrainian in Mariupol, Donetsk, Luhansk, Kyiv and Lviv: "Do not be afraid, simply believe. Yearn for freedom! However, remember, you will be free only in God and with God."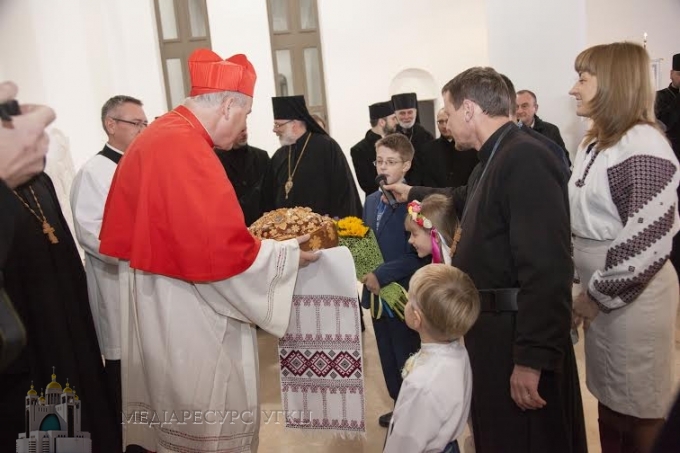 This was stated by His Beatitude Sviatoslav, UGCC Head, during the prayer vigil, in the UGCC Patriarchal Cathedral of the Resurrection of Christ in Kyiv, for peace in Ukraine on the occasion of the 25th anniversary of the legalization of UGCC. The event took place on December 10th, within the framework of the visit to Ukraine of the Papal Legate Cardinal Christoph Schönborn, O.P., Archbishop of Vienna and the Ordinary for the faithful of the Byzantine Rite in Austria.
The 25th jubillee of the legalization of UGCC, believes His Beatitude Sviatoslav, is an opportunity to once again think through this gift of freedom, to accept it and "to be free people in a free country on a free land." He remembered the events of 25 years ago, when the meeting between Pope John Paul II and the then President of USSR, Mykhailo Gorbachov, took place. "In a freed UGCC this Holy Pope played a decisive role. It was He who interceded then for our Church. He asked his Polish people not to be afraid when the Poles took off the chains of the Soviet regime. Today he is among us through his relics which we worship here today," he added.
It is the contention of UGCC Major Archbishop, that the present Pope Francis also plays not the last role in the current events of UGCC as well as those of the Ukrainian people." In this way the Pope expresses his solidarity with the people who suffer for their own freedom.
"We are grateful to God for the gift of freedom. From UGCC and the Ukrainian people we express our gratitude to the Holy Father for what he does for our people, so that we can preserve the received gift of freedom," he concluded.
Photo: Yaroslav Pavliuk
UGCC Department of Information
PUBLICATIONS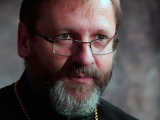 A presentation of the book "Dialogue Heals Wounds" of the Father and Head of the UGCC, His Beatitude Svyatoslav, was recently held. The book is...
MEDIA