UGCC Head gives Christmas greetings to the staff of UGCC Patriarchal Curia in Lviv
Friday, 28 December 2012, 09:24
His Beatitude Sviatoslav (Shevchuk), UGCC Head, met with the staff of UGCC Patriarchal Curia of Lviv on December 27th at the Lviv Archeparchy Recollection Center. The Church Primate greeted the staff of the patriarchal offices with the Feast of the Nativity and the New Year. There was time for informal fellowship.
"In 2003, when I was the head of the Patriarchal Curia, I remember that together with Rev. Bohdan Prakh we were working on developing the philosophy of UGCC implementing structures.  Bishops have many ambitious plans and there was a need for a mechanism in order to ensure that these intentions would be fulfilled in the life of the Church.  Such a structure is the Patriarchal Curia and you – the staff -- are in essence the highest authority of UGCC," stated UGCC Primate at the meeting.
His Beatitude Sviatoslav thanked all the staff of the curia for their work throughout the year, stating, "so much was accomplished that it is hardly possible to recount   all of it."
UGCC Department of Information
PUBLICATIONS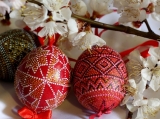 Christ is Risen! Indeed he is Risen! In the beginning was the Word, And the Word was with God, and the Word was God. All things came to be...
MEDIA