UGCC Head led the funeral services for Markian Paslavskyj, aperished soldier of the Donbas Battalion
Wednesday, 27 August 2014, 11:45
The recently deceased Markian was born in the United Sates of America. It wouold seem that it is the most quiet and tranquil place today. Many of those who are attempting to save themselves, would like to run and save their lives. However, this ws not the aspiration of the heart of our brother Mark. He comes to Ukraine, becomes one of us here, and on this native soil, he becomes our co-brother in the struggle for a free, sovereign, and independent nation.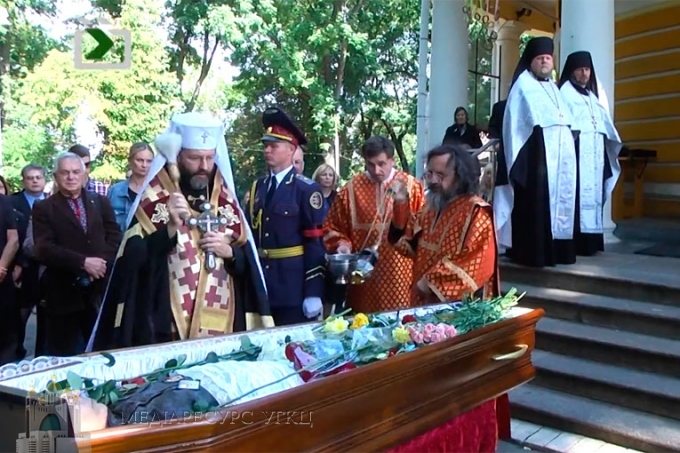 These words were said in the sermon by His Beatitude Sviatoslav on Augiust 26th during the burial ceremonies on Askold's Hill of the protector of Ukraine, Markian Paslovskyj.
It is noteworthy that Markian Paslovskyj found his eternal resting place next to the graves of the Ancient Rus King Askold, the Heroes of Kruty, and an Unknown Activist of Euromaidan. A member of Plast (Ukrainian Scout Organization), Markian died on Augiust 19th during the battle near Ilovaisk in Donbas.
Markian grew up in USA in an immigrant family. His father had also fought for Ukraine and incalculated his son with love for Ukraine. In 1992, Markian decided to permanently move to Ukraine. He actively participated in the Orange Revolution and the EuroMaidan, where during the attacks on Instytutska Street, he miraculously survived. Although he had the rank of an officer in USA,in Ukraine he joined the forces to fight for the Motherland as a soldier.
"Lord Jesus Christ, Son of God, accept this sacrifice of your servant Mark, grant him your heavenly embrace. Heavenly Father, grant him also that wreath which he earned in his life and in his death<" concluded His Beatitude Sviatoslav.
UGCC Department of Information
PUBLICATIONS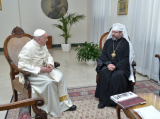 3 July at 10:00 AM, at Casa Santa Marta in the Vatican, Pope Francis met with His Beatitude Sviatoslav. The meeting was held at the request of the...
MEDIA