UGCC Head: "Let us not expect a miracle from the government, it does not save. Only God the Lord can save"
Monday, 15 December 2014, 09:07
Perhaps today we are crossing a moment of awaiting, maybe for not so long. A little more than twelve months we have been fighting for freedom. Let us know how to be patient. Let us know how to wait. Let us not wait for a miracle from a person, from the president, from our government, because their possibilities are limited. They do not rescue and save. Only Almighty God can save.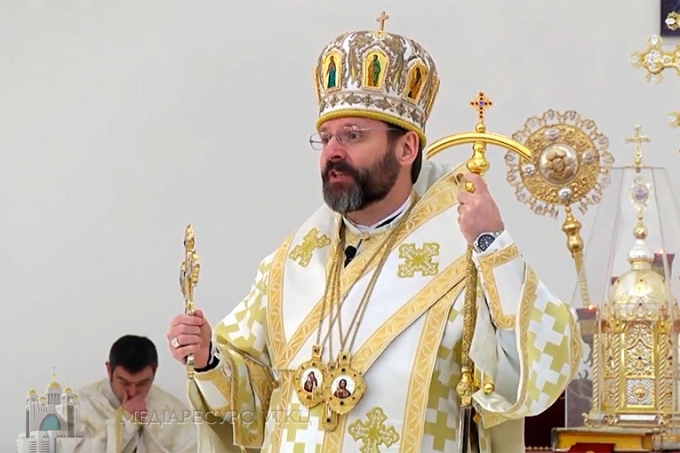 These were the words which the Father and the Head of the Ukrainian-Greek Catholic Church, His Beatitude Sviatoslav, asked the faithful to contemplate, during his sermon in the Patriarchal Cathedral of the Resurrection of Christ in Kyiv.
The Hierarch noted that in today's Gospel, we see God who is among his people... On a Saturday in the synagogue, Jesus Christ cures a woman who has waited for this for 18 years. "The woman," said the preacher,"waited for 18 years for a cure, for freedom. And she finally received God's act on a day that she perhaps did not expect it.... We do not know very well how to wait, we are inpatient. We want everything and we want it now."
He related how one singer,"almost expressing the essence of youth culture, stated: I do not know what I want, but I want it now." "We often get inpatient with God and with our government, and with those circumstances in which we live. And, it is, as if, we want to hear about an improvement already and today. However, these are words which originate from the Spirit of Sickness," contends His Beatitude Sviatoslav.
The Head of the Church reminds us that right now we are experiencing the pre-Christmas Fast. "It is a time of expectation. It is a time during which we prepare and await the coming unto earth in flesh, of Our Savior, Our Rescuer -- God, who created all of us, yet simultaneously grants us freedom through salvation," he states.
The Prelate appeals that during this time we follow the activity of God in our lives. "When we hear about God, who hears us on the day when we suffer, then at that time of expectation we are called to hear those people who today live with suffering and need rescuing and assistance. During this time of expectation, we have no right to be inactive. We should follow the mercy of God in our own lives. And then we shall be certain: we will receive the mercy of the Lord over us, over each one of us individually. Together we will be able to experience the moment of freedom, the moment of Christmas Joy, a moment of joy in the certainty that God is with us," assured the preacher.
After the Pontifical Liturgy, children received gifts marking the Feast of St. Mykolay which our Church celebrates this week.
UGCC Department of Information
PUBLICATIONS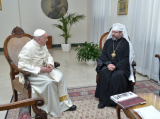 3 July at 10:00 AM, at Casa Santa Marta in the Vatican, Pope Francis met with His Beatitude Sviatoslav. The meeting was held at the request of the...
MEDIA