UGCC Head met with the administration of the Global Catholic Television Network EWTN
Thursday, 05 September 2013, 13:42
The Father and Head of the Ukrainian Greek-Catholic Church, His Beatitude Sviatoslav (Shevchuk) today, August 31st, met with the managers of the global television network EWTN during which both sides agreed to possible cooperation.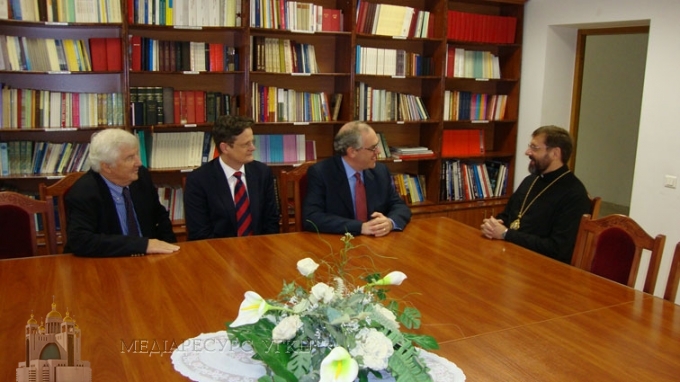 Participating in the meeting were: Michael Warsaw, President EWTN; Ian Murray, Chief Manager; Ivo Bender, Manager for Central and Eastern Europe.
His Beatitude Sviatoslav shared with EWTN administration that recently UGCC started an internet television Live TV which prepares quality programs. EWTN representatives proposed collaboration with UGCC so that through the media of our Church to transmit their content as well as to transmit UGCC mass-media content through their network in order to inform our faithful now residing in USA, Canada, Latin America and other countries.
UGCC Head thanked the management for such an offer of cooperation, noting that the Church has for many years been searching for an effective means of being present in the mass media space of Ukraine. Also the same is true for beyond Ukraine's borders, since it is a global Church.
The management of the TV channel expressed their desire to receive a video of the blessing of the Patriarchal Cathedral of the Resurrection of Christ, in order to show it when possible on their network.
"In my opinion this meeting has begun a fruitful cooperation to which we are invited. I hope that our Church in terms of development of mass media structures is ready for such collaboration," noted UGCC Head in summarizing the meeting.
Cooperation with the global network ETWN, believes His Beatitude Sviatoslav, may permit UGCC to break the informational blockade concerning Catholic topics in Ukraine. On the one hand it would show Ukrainian society the real face of the Catholic Church, and on the other hand, the face of the Roman Catholics and Greek-Catholics in the entire world.
EWTN is a global network of Catholic television which has 11 channels in USA, Canada, Latin America, Spain, Germany, Africa, Asia… The network is now making efforts to be present in Eastern Europe, especially in Ukraine.
In Kyiv there is already a center which translates their content into Ukrainian and Russian.
UGCC Department of Information
PUBLICATIONS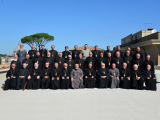 And you shall know the truth, and the truth shall set you free (John 8:32)
MEDIA