UGCC Head on Independence Day: "A Christian should ask oneself: What have I done, so that my Ukraine will become better?"
Friday, 23 August 2013, 21:46
In celebrating the Day of Independence of our Motherland, we, Christians – Ukrainians, should consider the personal responsibility that we bear for the fate of our independent country. This conviction was stated by the Father and Head of the Ukrainian Greek-Catholic Church His Beatitude Sviatoslav (Shevchuk) on the occasion of the 22nd anniversary of the Independence of Ukraine.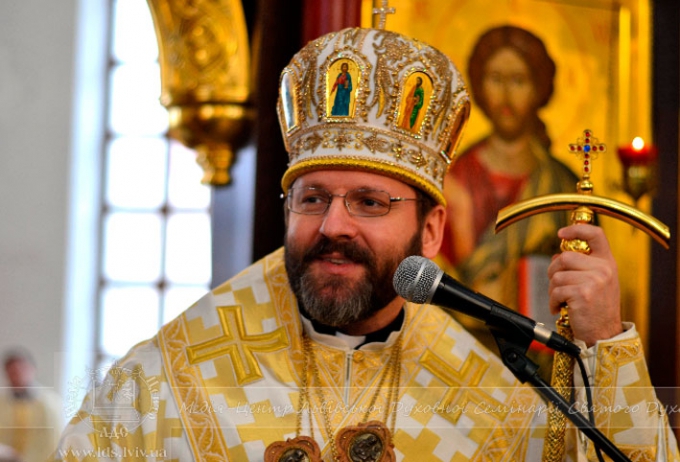 His Beatitude Sviatoslav believes that none of us have the right to place on someone else the responsibility for the fate of our country. "If we truly together will actively love our Motherland and will work and live for it every day, then we will reaffirm its independence every day and enhance the possibility that it will occupy a dignified seat in the family circle of the European countries," emphasized UGCC Head.
He suggests that today often people in a consumer style of thinking ask: What did Ukraine give me?
"However, a Christian should ask oneself: What have I given Ukraine? What have I done in order to make my Ukraine better, stronger, mightier," the Primate lists the rhetorical questions.
His Beatitude Sviatoslav remembers the appeal of Taras Shevchenko: "Love your Ukraine. Love her in cruel times. Love her in tough moments, Pray to God for her!"
This appeal by our immortal Bard sounds today very special to the current son and daughter of the Ukrainian land. To love Ukraine – is a typical Christian virtue. However, here we are not talking about some kind of feelings. We are talking about love, a love which is alive. "To love means to be capable of sacrifice," convincingly states UGCC Head.
UGCC Department of Information
PUBLICATIONS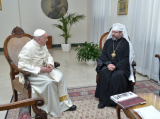 3 July at 10:00 AM, at Casa Santa Marta in the Vatican, Pope Francis met with His Beatitude Sviatoslav. The meeting was held at the request of the...
MEDIA