UGCC Head on Independence Day: "I urge all of you to believe in God and Ukraine"
Tuesday, 26 August 2014, 16:36
We should believe in Ukraine, in the strength of our country, and the wealth of our land. But we will only be able to live in freedom on this land if we will not be egotists. When for the sake of personal gains, we will not put our brethren into dungeons. When we will learn how to share gifts, be concerned about the situation of our brethren, able to forgive and be forgiven.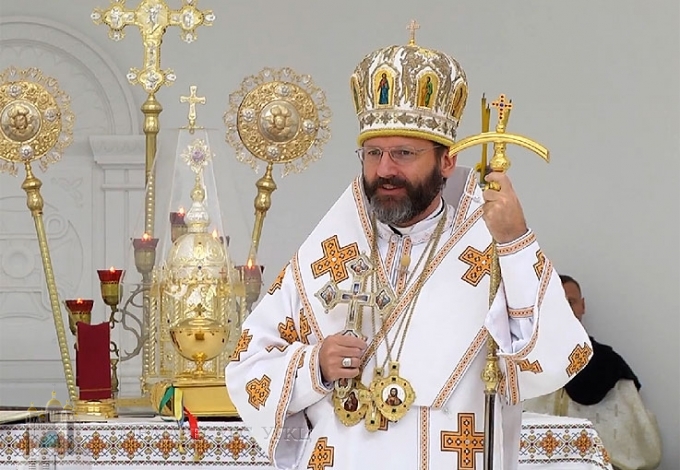 This was stated by the Father and Head of the Ukrainian Greek-Catholic Church, His Beatitude Sviatoslav, during his sermon to the faithful in the Patriarchal Cathedral of the Resurrection of Christ, today on August 24th, the 23rd anniversary of the Independence of Ukraine.
On this day in the churches of the Ukrainian Greek-Catholic Church, the faithful pray for our free and independent Motherland and implore the Lord God to bless it.
"This holiday is on the one side a civil one, a national one, and from another side-- a deeply religious one. Because today, standing before the Face of God, we should ask ourselves what we should do in order to hold on to this gift of God," asks the Primate of the Church for all to consider.
According to His Beatitude Sviatoslav, on this day we begin to understand what it means to us to have the gift of independence, the gift of freedom, the gift of dignity, the gift of life.
He invites each one of us to ask ourselves the question: "God, what will I return to the Lord for what He gave me?" And today, the Lord says to each one of us: "in order to hold on to the gift of independence, to mature in it, let us share with our fellow men everything that we have," says the preacher.
"Today I want to appeal to each one of you, every resident of Ukraine, every person of goodwill – to believe in God and Ukraine," emphasized the Major Archbishop.
In talking about the national flag, His Beatitude Sviatoslav noted, that when we look at this symbol, we see in it the union of heaven and earth. "The sky is the God that looks over us, from the heavenly blue sky. And the land, is the land that brings forth great harvests only then, when God's blessing rests on it," said he.
"Today, let us thank the Lord God for the gift of freedom, for the gift of a dignified life. But let us also beseech Him that we be able to hold on to this gift and share it with others," invoked the Church Primate each one of us.
UGCC Department of Information
PUBLICATIONS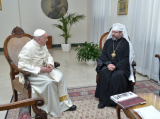 3 July at 10:00 AM, at Casa Santa Marta in the Vatican, Pope Francis met with His Beatitude Sviatoslav. The meeting was held at the request of the...
MEDIA