UGCC Head urged U.S. government to be a negotiator in the settlement of the situation in Ukraine
Sunday, 09 February 2014, 15:12
Father and Head of the Ukrainian Greek-Catholic Church, His Beatitude Sviatoslav (Shevchuk) stated in Washington,DC that the protests in Ukraine are not political but are generated by the choice of the future of the country, and urged U.S. government to be a negotiator in the settlement of today's situation in Ukraine.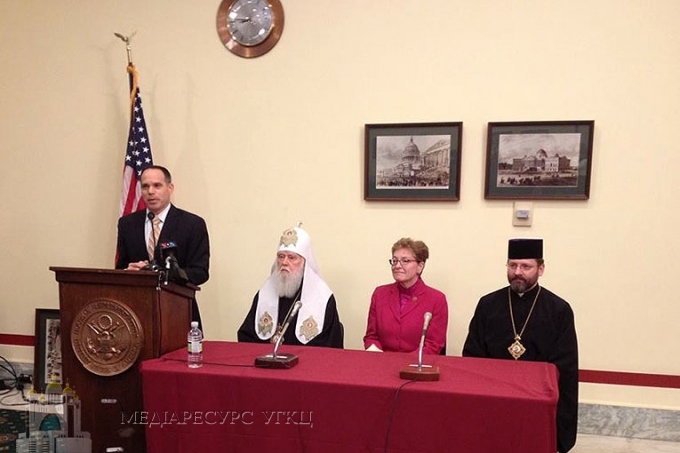 He stated this on February 5th, at the annual Day of Ukraine in the U.S. Congress. On this day Ukrainians in the United States of America meet with representatives of U.S. government: Congress members, senators, and representatives of the State Department in order to assert the interests of Ukraine.
The session began with a presentation by the co-chair of the Congressional Ukrainian Caucus, Congresswoman Marcy Kaptur (Democrat, Ohio, 9th congressional district), who underscored the historic significance of this day, since the Prelates of two Ukrainian Churches, His Beatitude Sviatoslav and Patriarch Filaret supported the effort.
In his speech, His Beatitude Sviatoslav noted that all religious institutions of Ukraine support the aspirations of Ukrainians for changes through a constructive dialogue between citizens and government officials, and not through the use of violence or aggression.
The meeting was attended by Eric S. Rubin, Deputy Assistant Secretary, Bureau of European and Eurasian Affairs of the Secretary of State, representatives of Ukrainian parliamentary opposition, representatives of the countries of Central and Eastern Europe, and many Ukrainians who reside in USA.
As we had mentioned, on February 4th, UGCC Head together with UOC-KP Patriarch Filaret, held a public prayer to the Holy Mother of God for a peaceful settlement of the situation in Ukraine. The prayer service was held by the Taras Shevchenko Monument in Washington,DC.
UGCC Department of Information
PUBLICATIONS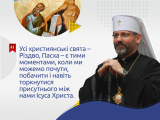 All the richness of the Christian life, our feasts, our Divine Liturgy are an opportunity to experience the events that the apostles went...
MEDIA