UGCC Holy Family Eparchy was officially announced in Great Britain
Tuesday, 29 January 2013, 09:01
On January 27, 2012, in the UGCC Cathedral of the Holy Family in London, Great Britain, Archbishop Antonio Mennini, Apostolic Nuncio to Great Britain, officially read the papal bull, announcing the elevation of the Apostolic Exarchate for Ukrainian Catholics in Great Britain to the level of an eparchy. The Papal Bull begins with the words "As Christ's on earth" and is dated January 18, 2013. On that day the Holy Family Eparchy in London for Ukrainian Greek-Catholics who reside in the United Kingdom was created. Bishop Hlib (Lonchyna), who had until then served as its exarch, was named the first eparch of the newly-created eparchy. The announcement was made by the Press Office of UGCC Holy Family Eparchy.
Numerous faithful who gathered for the Divine Liturgy, listened to the words of the Holy Father who particularly wrote:  "We are establishing an eparchy in the community of the Ukrainian faithful of the Byzantine Rite in Great Britain, who are increasing numerically, so that they can be led for the good of their souls and so that at the same time one can see the growth of their faith."  The Holy Father also decided to "elevate the Apostolic Exarchate for Ukrainian faithful of the Byzantine Rite who reside in Great Britain to the level of an Eparchy in the name of the Holy Family, headquartered in London."
Then the charter naming the first eparch was read that delegated him to lead "the people of this new eparchy, to hope, to yearn and to achieve eternal salvation."  Also read was a greeting from his Beatitude Sviatoslav (Shevchuk), UGCC Head.  The Church Primate wrote "this news makes UGCC rejoice both in the motherland as well as in the whole world."  At the same time His Beatitude Sviatoslav asks the All-Merciful Lord to send the Holy Spirit to the new eparchy in order to bring to fruition that, which (He) initiated today."
All Liturgy participants rejoiced in the news of the creation of the new eparchy.  According to the words of Bishop Hlib (Lonchyna), this is not only an honor but also a responsibility that the new eparchy becomes worthy of its name, works towards the greater glory of God, renews faith in the hearts of its faithful and becomes all the more "a place to encounter the living Christ."
UGCC Department of Information
PUBLICATIONS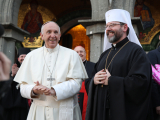 ROME - As the Catholic Church's Synod of Bishops in Rome was meeting on Oct. 11, it was another synod across the Aegean Sea in Turkey that sent...
MEDIA